We Reviewed Dozens Of The Best Preschool Apps So You Don't Have To. Here Are Our Top Picks.
Best Apps for Preschoolers. Apps for preschoolers can open up a world of possibilities and fun for young children who are really starting to get interested in the world and are learning at a very fast pace. Here are some fun and educational apps for preschoolers that we rated and loved.
Top Apps for Preschool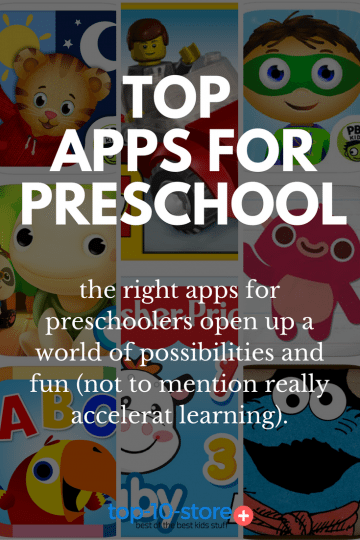 The best educational apps for preschoolers is probably our most requested category of apps. That's why we work hard to make sure we've got nothing but the best apps chosen for preschoolers. Here are some fun and educational apps for 3 to 4 year old children that are around preschool age.
At this age kids are really accelerating their learning. They are sponges and all information is quickly processed. The right apps for preschoolers can open up a world of possibilities and fun (not to mention really accelerating their rate of learning). Here are some fun and educational apps for preschoolers that we rated and loved.
Rather than mindless video-game playing we chose apps that we think can truly use new technology as a tool to teach kids under five. Our app reviews for preschoolers will guide you toward the best apps out there. We cover all the basics that preschoolers should be focused on, things like learning their ABCs, 123s, shapes, colors, sounds, animals and much more.
While free preschool apps are great, we also included paid apps we thought were worth paying for. So here we have compiled a list of  our favorite iPhone/iPad/Android apps for preschoolers.
Other App Categories: App by Grade, Apps by Age, Apps by Topic
Popular Top 10 Lists: Bikes For Toddlers , Scooters For Toddlers, Educational Toys For Toddlers, Ride-On Toys For Toddlers, Outdoor Toys For Toddlers, Coloring Books For Kids, Educational Toys, Toys For 3 Year Old Boys, LEGO Sets, Toddler Puzzles
---
Top 5 Apps for Preschool
Grandma's Preschool is a great virtual learning app with lots of fun, interactive learning games and activities for children to explore. 
Read A Review
,
Read A Review
.
Lead the way by learning the fundamentals of early education: numbers, upper and lower case letters, colors, shapes and more. 
Read Review
.
Fun tool for helping children learn the alphabet. Filled with creative and clever interactive activities, the app reinforces letters. 
Read Review
.
Based on the children's book and TV series, this animated story features Curious George. Fosters language development. 
Read Review
, 
Read Review
.
Beck and Bo is a fun educational app that is sure to engage your little kids in a creative way, while helping them build their vocabulary. 
Read Review
, 
Read Review
.
This app introduces "sight words", the most commonly used words in school, library, and children's books. Kids need to recognize these words by sight in order to achieve reading fluency. 
Read Review
.
The Great Cookie Thief
There's a cookie crook in town—who could it be? Little sleuths will thrill in tracking down the crumb-y feller, building visual identification and observation skills in the process. Create Wanted Posters.
Babies are encouraged to learn about numbers and animals through interaction with engaging animations and sound effects! Tap or tilt the screen to set a learning world in motion!
Toddlers and tots will love learning about reading and writing with the ABC's: Alphabet Learning Game. Designed to introduce your little ones to the wonderful world words.
Interact and play with basic shapes such as 'triangle, rectangle, square, pentagon, hexagon, and circle'! Various motivational activities will inspire your children to learn more about shapes. 
Read Review
.
5 Fun Preschool Apps
Send your child swimming into a fin-tastic play date with Bubble Puppy! Kids can dress him up in fun outfits, feed him all kinds of treats and groom him.
I live in a big treehouse all by myself, and I need you to help me make food, wash up, and of course play together! We can play basketball or go on the tire swing.
Learn about morning and bedtime routines with PBS KIDS' Daniel Tiger. Help Daniel get ready for school in the morning and for bed at night through imaginative play.
Create & Cruise provides plenty of inspiration for real-life LEGO® builds and imaginative play scenarios you can talk to your child about – why princess is driving.
Your child can play along with each of the four main characters from the TV series while practicing the alphabet, rhyming, spelling, writing and reading. Super.
---
Related App Lists for Kids