Stickman Hook App Review
App Info
Price: Free (In App Purchases)
Overview
Stickman Hook is a unique arcade game that will challenge your visual skills and eye-hand coordination. The Stickman is working to move from platform to platform, and must swing across wide spaces and obstacles by a rope hooked up in the sky. Users have to figure out the rules to each level and apply them correctly to move on.
Features include:
Simple controls-just tap or tap and hold and go
Multiple tricks
Hundreds of levels
In-game store to earn skins and other perks (cash-free)
Option to purchase ad-free play
Quality
This is a fun game, but there are an unbelievable number of advertisements. Expect to see an ad each time you finish a level for the most part. Some users have also complained that the counter is not reliable for opening up new options at the store. They report having to reset the game and start over again to access store items that become available for lower-level players.
Education
This app is not intended to be educational.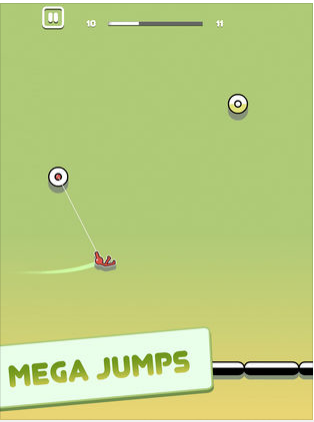 Entertainment
Stickman Hook is a fun game if you're not too visually or coordination-challenged! The levels start out easy, just requiring players to swing across open spaces. Even they require timing and coordination, though. However, they quickly become more complex. Even the lower levels involve gymnastic moves and bouncing strategically off of trampoline-like devices.
This game might be even more fun if there were some way to compete with other players, such as a leader board or Game Center access. Otherwise it's tough to brag to your friends about your achievements!
Value
This game is free on both the App Store and on Google Play. However, as noted earlier, there are more ads than even most games with advertisements, to the point of being rather annoying. Ads pop in after completion of each level, and at least the early levels are quick and easy to beat. And ads show whether you beat the level or have to repeat it.  I was able to play through in a matter of seconds (and I'm not good at these sorts of games), and then each time was faced with a 20-60 second advertisement. It was like I played for a very short time and spent the majority of my time watching ads. There is an option to purchase an ad-free experience for $2.99, and if you like the app, you should definitely consider it.
Child Friendliness
Young children are not likely to have the necessary coordination to enjoy this game, but the excessive amount of advertising makes it unsuitable for them anyway. Each ad is an opportunity to get out on the open internet and get into who knows what sorts of trouble.
YES external links

NO social media

YES 3rd party ads

YES in-app purchase

Stickman Hook
Stickman Hook
Stickman Hook is a fun eye-hand coordination game that offers loads of opportunities for development of visual skills and problem-solving. It is simple to play and has hundreds of levels to keep players intrigued for a very long time. The only downside is the excessive number of advertisements in the free version.