We Reviewed Dozens Of The Best Fun Apple iPhone Games for Kids Ages 10-12 So You Don't Have To. Here Are Our Top Picks.
iPhones are the cream of the crop when it comes to kid-pleasing, fun, and educational apps. Your fourth or fifth grader can play with these engaging and interesting games and maybe even learn a little along the way!
Learning Games
Inventioneers
Filimundus AB / Free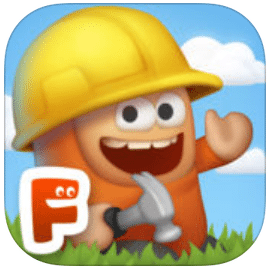 Put together incredible machines to solve seemingly simple problems with the Inventioneers. Some challenges seem amazingly easy, such as getting a cat out of a tree, but when the Inventioneers get to work on the problem, they build complex (and amusing) solutions. This free app will give players a good taste of the game, and the full version is only $1.99 as an in-app purchase.
The machines look quite a bit like something from the creators of the classic Mousetrap game or perhaps from the old-school "Incredible Machine" computer game. Developers did a great job of incorporating a physics engine, so it's simply a matter of figuring out each device's behavior in this crazy world, then putting together lots and lots of causes and effects to get the job done. It's a great workout for logic, thinking, and planning skills.
Studypop
Houghton Mifflin Harcourt / free
There's nothing like a little head-to-head competition among friends to take the tedium out of learning activities. HMH has developed a real winner here in that regard.  The Studypop app includes content that is suitable for grades 3-12, so the app can accommodate kids who need extra review and those that need more challenging material. It's perfect for families and for friends.
Play in pairs or with two teams. Take turns to earn points and declare yourself champion. One player or team must guess the word or concept while the other provides them with clues. With lightning fast sixty-second rounds, this is one game that keeps them moving.
Thinkrolls: Kings and Queens
Avokiddo / $3.99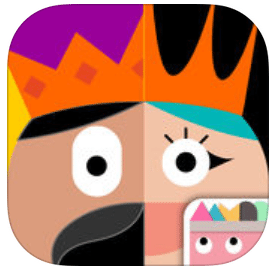 Everyone can get in on the action with this creative puzzle and problem-solving game. The easy levels are designed for younger elementary kids, but the game includes over 100 levels designed for upper elementary players (and older) that will challenge logical thinking, planning, and observation skills.
Each level is more challenging than the last, and a real-to-life physics engine ensures that players are mastering important concepts that will help them in school and in life. The game has a lot of elements typical of escape puzzles, where players must solve problems and find hidden elements to solve a problem, find a key, or move to a new level. It's a great game for the whole family!
eTABU Word Search
Konrad Przyludzki / Free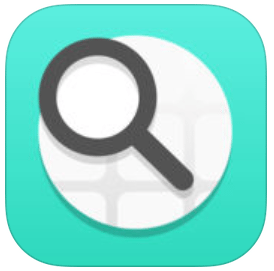 Developers have taken classic word search puzzles and added several competitive twists. Instead of a traditional word list, players work from a single keyword. The mystery words in the puzzle are all related somehow to the keyword. The easy levels provide a few clues, such as initial letters and number of letters, but more challenging levels do not.
To add to the challenge, there's a timed element. In addition, players can compete with themselves to beat their previous records, or they can compete with friends far and near to see who has the best reflexes and the widest vocabulary.
Games for Fun
Tic Tac Rings
Workflow Management and Optimization, Inc. / Free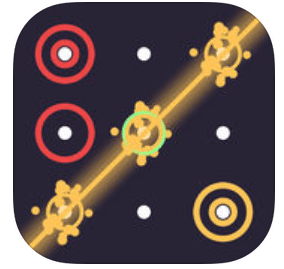 This highly-addictive game challenges players of all ages to put three rings of matching color into a row on the three by three board. It's not as simple as it sounds-the rings may be presented singly, doubled or in three concentric circles, and the colors begin with simple reds, blues, yellows and greens, but quickly escalate to a multitude of shades that it's tough to even distinguish, much less keep track of.
Each "peg" on the board can hold three rings (small, medium and large). The rings are presented randomly, and you decide where to place them. It's easy when they come one by one and there are only a few colors involved, but just when the game lulls you into a sense of complacency, rings start appearing two or three at a time (concentric), and in more and more colors. How many points can you score?
Pegs 'n Holes
Jordan Naftolin / Free
Pegs 'n Holes is a great (and addictive) logic game. The object is to fill in the colored "holes" with the correctly colored pegs as they are offered, but make one boo-boo and it throws off the entire level. Like most puzzle games, it starts out deceptively easy, and quickly becomes more and more challenging.  Go off of the right track and you must either reset the level or backtrack to find your mistake.
The game features an almost infinite number of puzzles, a choice of levels of difficulty, and more. It also can be connected to Game Center so players can compete with family, local friends, or players from around the world.
Incredibox
So Far So Good / $3.99
For the musically-inclined and even the musically-challenged, Incredibox offers a great chance to create wonderful sounds. Players control a set of beatboxers. Activate them in any order and in several ways, and then play back your creation to see what you have made. You can even record the music to share with others later.
Find the right combinations to tickle everyone's ears, and you can unlock some great bonuses. Best of all, players can share their work with other aspiring musicians from around the world and even gather votes to jump your work into the Top Fifty Chart. It's a fun way to introduce kids to concepts of rhythm and a blast for players of all ages.
Can You Escape – Island
Kaarel Kirsipuu / Free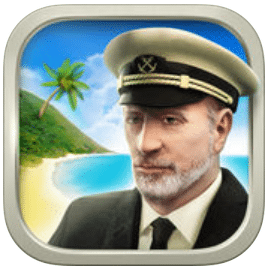 Here's a challenge escape-the-room style game that's full of puzzles to solve and hidden items to find. As the main character, you've survived a shipwreck, only to find yourself trapped on this island. You'll need to be on your toes to avoid the predators and pitfalls as you figure out how to get yourself to safety.
And the dangers aren't just in the jungle. You'll find ancient ruined temples and much more as you explore. But watch out! There are hidden traps everywhere! The app is free to try, but there are a range of in-app purchases to get extra content, boosters, and more, ranging from ninety-nine cents to nearly $5.00.
Classic Choices
Pigs&Bricks
Weiner Games / Free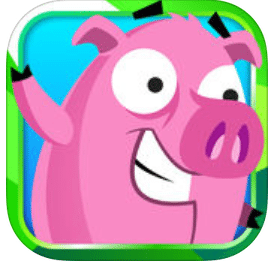 Pigs&Bricks is an old-school style "frogger" game-a great way to occupy ten to twelve year olds! It takes coordination and planning to hop the main character back and forth across the river. Let your children experience the fun of the old-style arcade as they work to master challenges and beat the Big Bad Wolf.
The game is preposterously silly, and kids will have a great time with it. They will also be sharpening their cause and effect skills, their reflexes, and their memories. It's a great time waster that actually might have a few benefits along the way.
Jumping Miner
Mark Studio / Free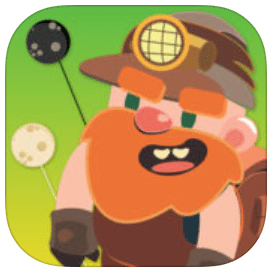 Focus and concentration are essential to this arcade-style challenge. Jumping Miner requires players to navigate their teensy miner figure around the world to collect moons for points while avoiding hazardous black holes. This fast-moving game is quite addictive once you get the hang of it.
And there seems to be no end to the challenge! The game features over 1000 levels, each more challenging than the last. It will take coordination and concentration to collect all of the moons at each level and to avoid hitting the black holes that cost lives.
Gold Rush! 2
Sunlight Games GmbH / 3.99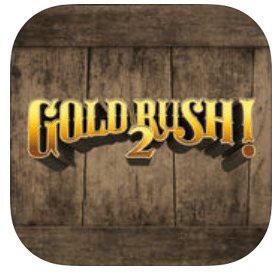 Close your eyes and imagine that you've gone back in time to 1869 in California; you are twenty years past the Gold Rush, and about to be immersed in an adventure. This simulation game pulls you into this old-time world as you try to stop the evil plans of the villain.
Players will confront greed and corruption, solve mysteries, and make the world a better place by bringing the villains to justice in this role-playing game. They will also appreciate the hi-res graphics, the HD animated scenes and the high-quality background music.
Discolor Rebounder
Chris Gervais / Free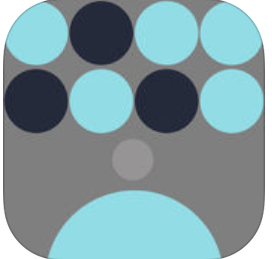 This game is reminiscent of "Pong"- players must guide a large ball to collide with other balls to bounce them around the screen. However, it's not as easy as it sounds. The little ball changes colors when it hits balls of different colors and rebounds, and you can only hit it when it is the same color as your larger ball serving as a "paddle."
Of course, it speeds up over time, and play increases in complexity, so there is a lot of content here to keep the ball moving, so to speak. This game is definitely one where the rules are deceptively simple, and the play can intrigue for a very long, long time.