We Reviewed Dozens Of The Best Thanksgiving Apps for Kids So You Don't Have To. Here Are Our Top Picks.
Get recipes, menus, videos and party ideas for celebrating Thanksgiving from Food … Thanksgiving
Our 21 Favorite Thanksgiving Apps
Thanksgiving conjures up images of huge meals, family get togethers, and warm memories, as well as turkeys, pumpkins and cornucopias. Americans, Canadians, and some other countries celebrate it as a fall harvest festival. Give thanks for these apps, and enjoy!
Games and Activities
Thanksgiving Games Free Kids
Play N Learn / Free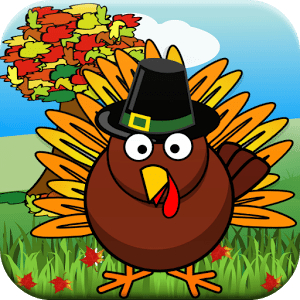 Here is a collection of Thanksgiving-themed games for the very young. Preschoolers and young children will enjoy matching and puzzle games in the holiday spirit.
The games included with this free app will help little kids develop memory, matching, fine motor skills and more.  The app has a mini-photo section that will let your child "dress up" like a turkey or a pilgrim, too.
And sound effects! We can't forget the sound effects. Little ones will be delighted to hear a turkey and see it do a silly dance.  This app will delight your young children, though it does have 3rd party ads, so you might need to supervise.
Hidden Objects Thanksgiving Fall Harvest Puzzle
Detention Apps / Free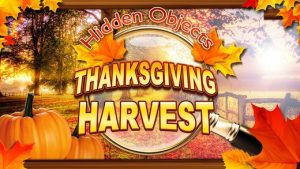 This hide-and-seek game will occupy your child (or you!) for hours and hours, searching through fall and Thanksgiving-themed scenes for hidden items. It's colorful and relaxing.  The app is perfect for destressing after a stressful day of cooking or cleaning this holiday season.
Users will enjoy over 30 different fall scenes. There are literally hundreds of items to find, too, including pumpkins, turkeys, scarecrows, and Indian corn. The game has three modes of play, and allows users to search based on picture, word, or collector.
You can even personalize the experience by choosing details about timers and hints. This offers a great experience for an array of ability levels and ages.
Save the Turkey – a Thanksgiving Strategy Game
MmpApps Corp. / Free
You take the starring role in this turn-based strategy game – you're the turkey! The goal is to escape from the hungry Pilgrims who want to invite you to Thanksgiving dinner. You'll have to figure out just how to foil them by running, dodging, hiding, and even moving pumpkins around.
The game is played on an on-screen grid. Make your moves by jumping from one square to the next. The Pilgrims will come after you, but fortunately you have the advantage: you are smarter than they are. Watch their moves and learn to predict what they are likely to do. It won't be long before you are running circles around them and they look like the birdbrains!
The app is rated 4+ on the App Store, but might be better for slightly older children. After all, it does take a little bit of thinking to avoid becoming dinner this time of the year!
More Holiday Dinner!
Maverick Software, LLC / $1.99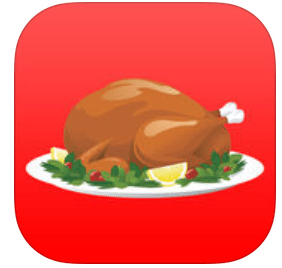 Wouldn't it be nice to chow down on Thanksgiving without worrying about all those calories? This might be the next best thing. More Holiday Dinner! lets users create a fabulous virtual dinner from start to finish and then share the pretend feast with friends.
App developers have thought of every last detail. Users can pick the entire menu, prepare the foods by touching, shaking and swiping the device, then snap shots of the virtual meal and share them via email or Facebook.
There's no shortages of dishes to combine in different ways; choose from over thirty foods, five different kinds of stuffing, and of course, lots of gravy. You can even take virtual bites of your food once it's ready.
Thanksgiving Coloring Book!
Peep Software/ Free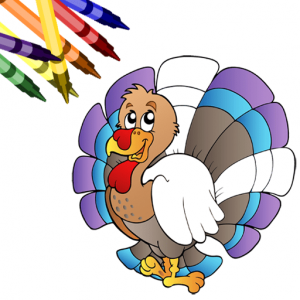 Choose from over 60 colors to make holiday pictures come to life in this coloring book app. Zoom right in with handy controls and get those hard-to-reach tight corners, and use the handy color-in-the-lines feature to make your work look absolutely professional.
The app makes it easy to save your work to a gallery, send to friends and family, or share over social media. There's even a feature that allows you to color your own photos!
Easy and intuitive controls let you choose colors, erase, save, and share with just a tap or a shake. Even the youngest kids will love this package of Thanksgiving fun.
Thanksgiving Puzzles – Fall Holiday Games for Kids
Scott Adelman Apps Inc / free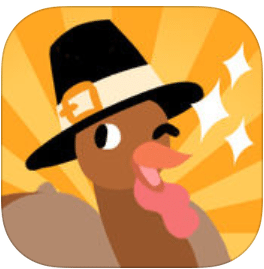 This free sample offers 4 of the 12 available jigsaw puzzles suitable for preschoolers and young elementary students. The rest are available as an in-app purchase for $1.99. The puzzles feature lovely artwork and animations after they are complete.
Young players will enjoy the colorful holiday illustrations and the fun things that happen with the puzzles after they are finished. The puzzles increase in difficulty as players go through the set, so each becomes more challenging than the last.
The controls to the app are perfect for young children to use: intuitive and simple. The app does offer an in-app purchase, so parents may want to supervise youngsters as they play.
Thanksgiving Games for Kids
Kid Games / Free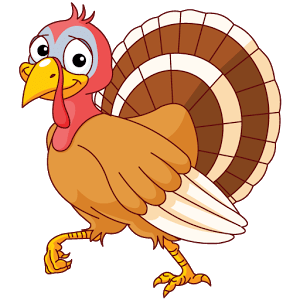 Choose from a selection of sixteen classic children's games with Thanksgiving themes designed to please and challenge preschoolers and young kids. Memory games, jigsaw puzzles, dot-to-dot activities and more will entertain young children in a holiday way.
Each game will help your preschooler develop important skills, such as eye-hand coordination, memory, and spatial skills. The Thanksgiving artwork gives everything a great seasonal touch.
There are even some games to nurture creativity and imagination. Your youngsters are sure to enjoy this collection. Parents may wish to supervise young children, however, because the app does contain ads.
Ebooks
Thanksgiving Tale and Games – Gobble the Famous Turkey Ebook #1
Hub Creations ltd / $3.99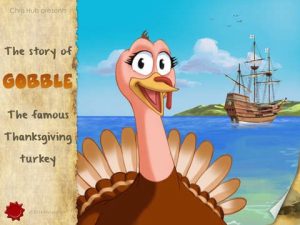 This 20-page enhanced ebook is chock full of interactive spots, puzzles and games. Kids will enjoy the funny story while they learn real Thanksgiving facts.
The ebook has multiple modes, including an autoplay mode that only opens after the book has been read once. The 19 embedded games can be played at either of two difficulty levels.
The book features a lot of helpful features to nurture reading and learning, including read-to-me options, karaoke options to join in on the songs, and more. The activities build vocabulary, develop comprehension and observation, and improve attention. The app is suitable for ages 3 to 11.
The Turkey Who Forgot How to Gobble
Alexis H. Purcell / $2.99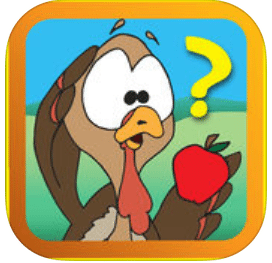 This adorable story has a seasonal focus on friendship and farm animals that will tickle young children. The young turkey, Joey, is having an awful problem: he has forgotten how to gobble! The farm animals try ever so hard to teach him how to make a turkey sound, with hilarious results.
Preschoolers and young students will learn about animal sounds as well as enhancing their vocabulary. The story can be narrated in English or in Spanish, switching at the touch of a button, so parents can use it to introduce a new language if they wish.
This award winning app is correlated with Common Core Standards, and the developers have supplemental materials available on their website. It is also designed to be completely kid-friendly, so parents can let kids play without worry.
Thanksgiving Jokes for Kids
Riley Weber / $2.99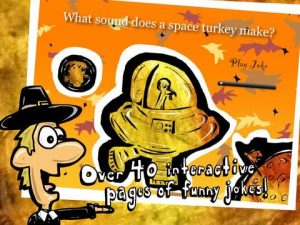 Tickle your child's funny bone with this collection of jokes and riddles in an interactive ebook. The simple and clean jokes are perfect for sharing with family and friends.
The book features hilarious illustrations, over 40 pages of nonsensical fun, holiday music, and narration by a child's voice. The pages are interactive, too, which will really help hold youngsters' attention.
Jokes offer a fabulous vehicle to nurture reading comprehension and social skills, so be sure to include a great resource like this one in your holiday plans.
A Charlie Brown Thanksgiving – A Peanuts Interactive Classic for All Ages
Loud Crow Interactive, Inc. / $3.99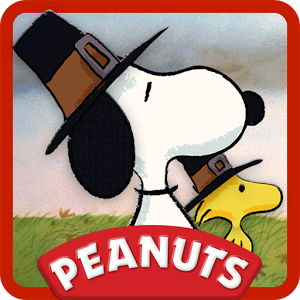 Thanksgiving traditions are important in most households, and this one cuts across cultures and ages. Let  your child experience the fun and joy of this classic story featuring dialog, sound effects, and music from the classic television special.
Adult controls are separated from children's content, making this a perfect ebook for your child to enjoy independently. The pages feature interactive and playful illustrations, too.
The app offers read-to-me, read-to-myself, and autoplay features, so it is perfect for a wide range of age levels. Now you don't need to wait for the networks to run the special; you can share it with your children anytime they want.
The Berenstain Bears Give Thanks
Oceanhouse Media / $3.99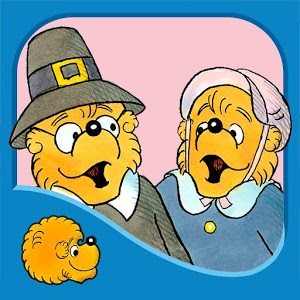 Thanksgiving is a wholesome, family holiday, and what could possibly be more wholesome than the classic Berenstain Bears family.  This ebook tells about the time when Brother and Sister Bear act out the first Thanksgiving.
The ebook offers many tools to help young children have fun and develop literacy skills at the same time. Words are highlighted as they are narrated to promote word recognition. Budding storytellers can record their own narration if they wish. Tap pictures on the interactive pages, and see the printed names.
Designed with kids' safety in mind, this ebook features separate parental controls and simple, intuitive navigation. Count your blessings as you enjoy this wholesome book.
Education
Starfall Turkey
Starfall Education / 99 cents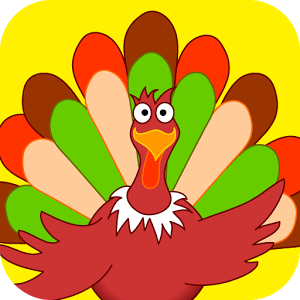 Starfall, the well-known reading instruction website, has gone seasonal with this fun app to help beginning readers learn. Players can decorate turkeys and solve symmetry puzzles. Beginning readers will learn new words and enjoy some silly jokes.
Making connections to things that are happening in the real world makes reading come to life for beginners, so this app is a great addition to your holiday collection. Kids will happily play, and never even notice that they are learning.
American Indian Magazine
YUDU Media / Free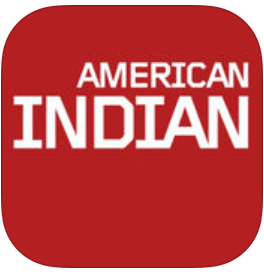 Thanksgiving season often means homework for older students related to understanding Native American cultures, since the story of the first Thanksgiving involves Native Americans. This beautiful magazine app from the Smithsonian Museum of the American Indian offers factual information to help kids learn about culture and heritage.
The app includes digital versions of the quarterly issues dating back to 2010, and shares both historical and contemporary articles about Native American groups. It's a great way to take the story of the first Thanksgiving and make it come alive while squelching stereotypical thinking.
In addition to articles, the app includes some great photography, both of traditional and contemporary indigenous peoples. It offers a serious look at our country's history of interaction with the various tribes.
Thanksgiving Math Flashcards
Charleston Shi LLC / $1.95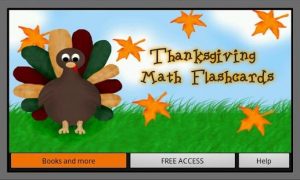 Thanksgiving themed math practice just may help motivate the kids to practice their addition, subtraction, multiplication and division a bit this holiday season. This game offers five levels with practice and quiz modes.
Students can get practice with unlimited problems at each level. There's also easy access to move the level of difficulty forward or backward, as needed, so kids can get just the right level of practice.
The app is suitable for kindergarten through grade 5. There are no in-app purchases. Now, let's learn those math facts!
Card, Photo Booth and Editing Apps
Happy Thanksgiving Cards
Mars n Moon / Free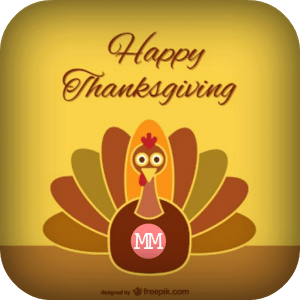 Send holiday ecards to your friends and loved ones with this handy app. Happy Thanksgiving Cards makes it easy to do.
The app features over 30 greeting card templates and easy-to-use controls. There are even fifty bonus quotes to help you express just the right message. When you've got it the way you want it, send your card off via email or social media.
Happy Thanksgiving Cards also includes a bonus Thanksgiving game. When you're done with the work, you can play for a few moments, or give your youngster something fun to try.
Thanksgiving Photo – Make Special, Thankful Photo
Nguyen Tung /Free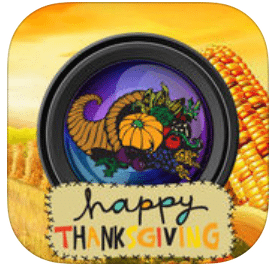 Get your photos ready for the holiday with this selection of Thanksgiving frames and stickers. Choose a great family moment, or take a picture of the holiday table, then pop a frame around it and add festive pictures like turkeys, pumpkins, or cornucopias.
The finished picture can easily be saved to your camera roll and used to create a greeting card or to send to a friend or loved one. With hundreds of holiday decorations to choose from, each creation promises to be unique.
The app also includes the capability to add text to your photos, so you can personalize them with just the right message.
Happy Thanksgiving Photo Frame
MeTOO / Free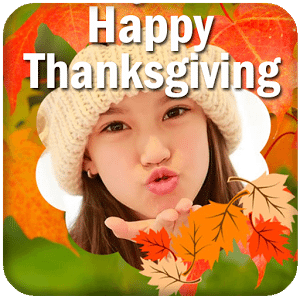 Use photos from your camera roll or grab a new perfect shot, then add just the right touch of holiday decoration with a frame using this app. These colorful frames will enhance your pictures and make them just perfect to send out to friends over email or through social media. The app interfaces with nearly all social media platforms to make this a snap.
The app does contain ads, but it offers a rich selection of frames and other decorating features, so you will be able to find just the right combination to perfectly set off your creative work.
Use your framed photos as your lock screen, your home screen, wallpaper, and more. Before you know it, you'll have a whole collection of customized pictures to choose from, and you will have a phone that is as decorated as the rest of your life.
Backgrounds, Wallpapers, and Ringtones
Thanksgiving Ringtones
Maxim Grossu / $1.99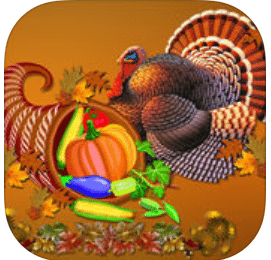 Put your phone in the holiday spirit with these uplifting ringtones. You will amaze and amuse your friends, loved ones, and anyone who is nearby when your phone rings with your festive phone.
The app includes snippets of some popular songs related to the holiday, such as "Alison's Restaurant" and "Just Eat It." There are kids' songs, such as "Five Little Turkeys," and songs with a holiday message, like "You've Got a Friend."
All together, there are over 50 quality ringtones, so you could change a few times a day during the weeks running up to the Big Day. Enjoy!
Thanksgiving Wallpapers & Thanksgiving Backgrounds
Floor Girls / Free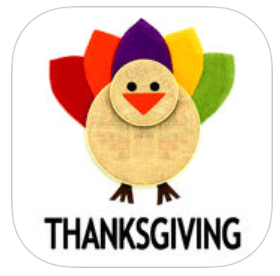 Now you can decorate your iPhone or iPad's screen with some great holiday backgrounds at your fingertips. Each is optimized to take advantage of iOS's Retina Display, so they look fabulous on lock screen or as a background.
Developers are constantly adding new designs, and you can download your favorites to your camera roll to use even when you are offline. You can also share your favorites over social media to show off a bit.
You can also enjoy the app's images, icons, themes, styles, and pictures. It's the perfect way to dress up your device for the holidays.
Thanksgiving Wallpaper
Holiday Wallpaper / Free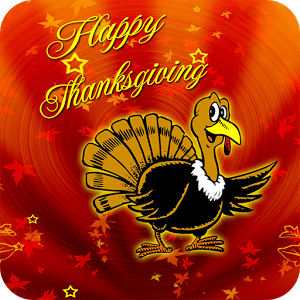 Looking for screen decorations for your Android device? This app might just be the ticket. It features tons of holiday-themed backgrounds that you can use on phone or tablet, on the lock screen or the home screen.
Create and download a library of your favorites to use offline. The app features a quick and intuitive interface to make it easy to switch up the decor with just a few taps and swipes.
The app developers promise to update regularly, and there are no annoying pop-up ads. Now your mobile device can be as festive as the rest of your world!