Character & Theme Apps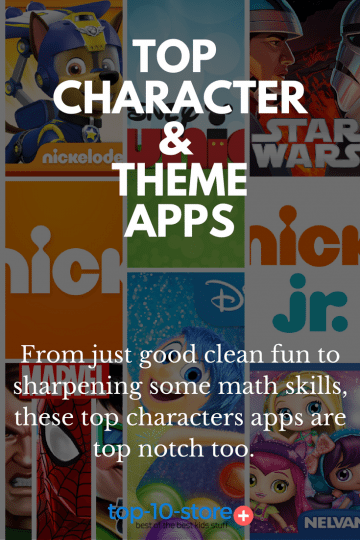 If you have children, then there's no way that the words "Disney," "Marvel," and "Nickelodeon," haven't fallen out of your mouth or been rung throughout your ears. They hold our kids (and our own) favorite characters, their role models and now, their favorites apps too! From just good clean fun to sharpening some math skills, these top characters apps are top notch too.
Instead of turning the channel on the TV and having them sit in front of it for hours, switch on the tablet and let them immerse themselves in the fun. With these first-hand experiences, they get to be entertained while using their brain – it's a win-win for both child and parent.
From Disney storybooks to commanding an army to defeat the some of the most evil villains around, there's something for our preschoolers to enjoy and our teens too! Just make sure to check the age recommendations on each before you hit the download button.
Truly, what's the next best thing to watching your favorite characters on the big screen? Actually, playing, learning and interacting alongside of them seems like even more of a fun adventure, don't you think?
Other App Categories: App by Grade, Apps by Age, Apps by Topic
Popular Preteen Top 10 Lists: Top 10 Drawing Books For Kids 2017, Best Astronomy Apps for Kids, Top 10 Board Games For Kids 2017, Top 10 Bikes For Boys 2017, Top 10 Toys For Ten-Year Old Girls, Top 10 Water Toys For Kids 2017
---
Top Disney Pals Apps
If your kids love Disney Junior, they'll most certainly soak up a ton of fun within this app. Follow along with their favorite storybooks that include their favorite Disney pals, watch their favorite episodes from their favorite Junior shows and play games alongside Mickey Mouse and even Elena of Avalor!
Another Disney favorite, Frozen comes alive within this fun puzzle-inspired app. Slide and match 100's of pieces within the Kingdom of Arrendelle alongside Anna, Elsa and, of course, Olaf too.
Fans of the hit Star Wars franchise will eat up this fun little game. Choose your side, build your army and fight throughout the entire galaxy. This game is most appropriate for those 10-years and up.
Merida, beloved princess and role model, takes little ones on a journey throughout Scotland! Archery, beautiful visuals and maybe even run into Mordu before the end of the trip.  
Kids start learning a bit more about emotions as they help match, sort and burst Riley's memory bubbles. Inspired by the movie, take a journey throughout some of the best scenes while sharpening puzzle-solving skills.
---
Top Marvel Hero Apps
Players get the opportunity to build their very own Super Hero Academy and play as their favorite character! Go on missions, create a personalized campus and immerse yourself into the life of a hero. 
Marvel Tsum Tsum
Players of all ages get to battle it out in their charming adventure. Featuring your favorite Super Hero Tsum Tsum's, battles against the villains in a variety of epic missions.
Your favorite Super Heros and Villains come together for some epic battles within the Contest of Champions app. Most appropriate for teenagers, you're allowed to team up with friends to create alliances as you battle it out among the best.
Your favorites Super Heroes and Villains come together in this match-3 puzzle game! It's also a story-telling app that will have the kids entertained all afternoon long, if you let them.
A story-driven games that connects Spider-Men and Spider-Woman everywhere, you'll start out recruiting and creating your very own army. Become the Super Hero of your very own story throughout the epic battles in the New York City streets.
---
Best Nickelodeon Apps
The Nick by Nickelodeon app is a one-stop shop for everyone to watch their favorite shows and play games! From Spongebob to TMNT, there are tons of ways to treat the kids with some down time alongside their favorite characters.
The Nick. Jr. Books app has the ability to ignite a little one's love for reading. Featuring a collection of digital books holding a variety of favorite Nickelodeon characters such as Paw Patrol and Shimmer and Shine, kids get three different narrative choices depending on their skill level. But the beauty is, readers can grow along with the app.
The team got new flying suits so it's time to take flight! Allow the little ones to have some fun with their favorite pups in this adventure game. Counting, language and problem-solving skills are all sharpened throughout the journey.
Not only will preschoolers get to join along on a journey with their favorite genies, they'll be introduced to basic math concepts while they do it! Helping with a bit of magic and finding treasure too, it's be a fun afternoon for the little ones. iOS App Store Google Play
How does a magic makeover sound? Cast spells, change the colors on the screen, switch outfits and accessories and more within this fun app! With bouts of creativity and imagination, your very own Little Charmer will be filled with inspiration.
---
Related App Lists
Arts, Crafts & Creativity Apps