We Reviewed The Best Astronomy Apps For Kids So You Don't Have To. Here Are Our Top Picks.
Take kids on a delightful adventure into space with these perfect astronomy and outer space apps. We have found everything from space-themed math apps, fantastic space exploration apps that have breath-taking visuals and engaging information through to apps that teach space navigation skills. Your budding astronaut can enjoy these wonderful apps that teach kids about astronomy and outer space.
Top Astronomy Apps for Kids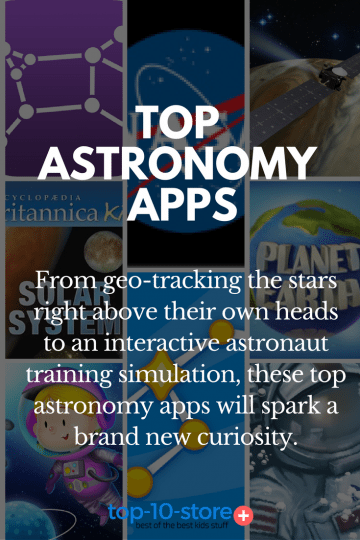 There's something mysterious about our solar system. And lots of questions surrounding it, especially for little minds that are just being introduced to the concept.
From geo-tracking the stars right above their own heads to an interactive astronaut training simulation, these top astronomy apps will spark a brand new curiosity.
Whether you've got a toddler you want to star teaching about the sun and the moon, or an older child that wants to explore deeper into the galaxy, there's something for varying levels below.
High-definition illustrations, a walk among the stars, more information about what gravity is and why we need it, and tons of information about the U.S. space program, it's amazing what an afternoon with these top astronomy apps can teach the kids.
Other App Categories: App by Grade, Apps by Age, Apps by Topic
Popular Preteen Top 10 Lists: Top 10 Drawing Books For Kids 2017, Arts Crafts & Creativity Apps, Apps for Kids Ages 11 – 13, Animal & Nature Apps, Apps for Kids Ages 9 – 11
---
Top 10 Astronomy Apps for Kids

An interactive books for children to dive right into, this app includes high-definition illustrations that will introduce young mind's to our solar system plus so much more! From the sun to the astroid belt, it's a great way to start seeing beyond our own front doors.
Do you have some space explorers inside your home? Well, this app is for them! Star Walk takes our smallest astronauts and begins teaching them how to recognize constellations, different planets throughout our solar system and more!
Gravity is the force that created the relationship between the sun and the Earth. And with this app, kids will learn even more about it.
There's nothing to be bored of when it comes to this app adventure. Kids can take a ride along with Alex and Alice while discovering wonders of our universe!
A simulation that will take you on a journey throughout our solar system, Cosmographia may be one of the most beautiful apps around. Pinpointing the stars, the sun, the planet while kids go on an adventure right from the comfort of their own home.
The official NASA app has so much information for your kiddos to eat up! Learn about astronomy but also get an insider's look on the U.S. space program too!
Making astronomy accessible to the smallest astronomers, Night Sky app answers all kinds of questions one may have about what's up in that big sky of ours. It also uses geo-tracking to show you all about the stars right above your head.
Children will get the chance to explore all the secrets surrounding our solar system with this interactive app. Puzzles, memory games and more are included!
The astronaut-to-be living in your house will surely benefit from some play with this app. Boost navigational skills, learn about space, and take part in an extremely difficult simulation; and it's great for older children!
For our smallest kiddos, Solar Family will give them their first introduction to the solar system. Using fun faces and animation, they'll say hello to the sun, the stars and the planets by the afternoon – and participate in over 30 activities too!
---
Related App Lists
Arts, Crafts & Creativity Apps