We Reviewed Dozens Of The Best Kindergarten Apps So You Don't Have To. Here Are Our Top Picks.
Here's our list of the must have apps for Kindergarten. Educational games that will keep your kindergarten aged child challenged and engaged as well as fun reading apps to help them learn without even trying.
Top Apps for Kindergarten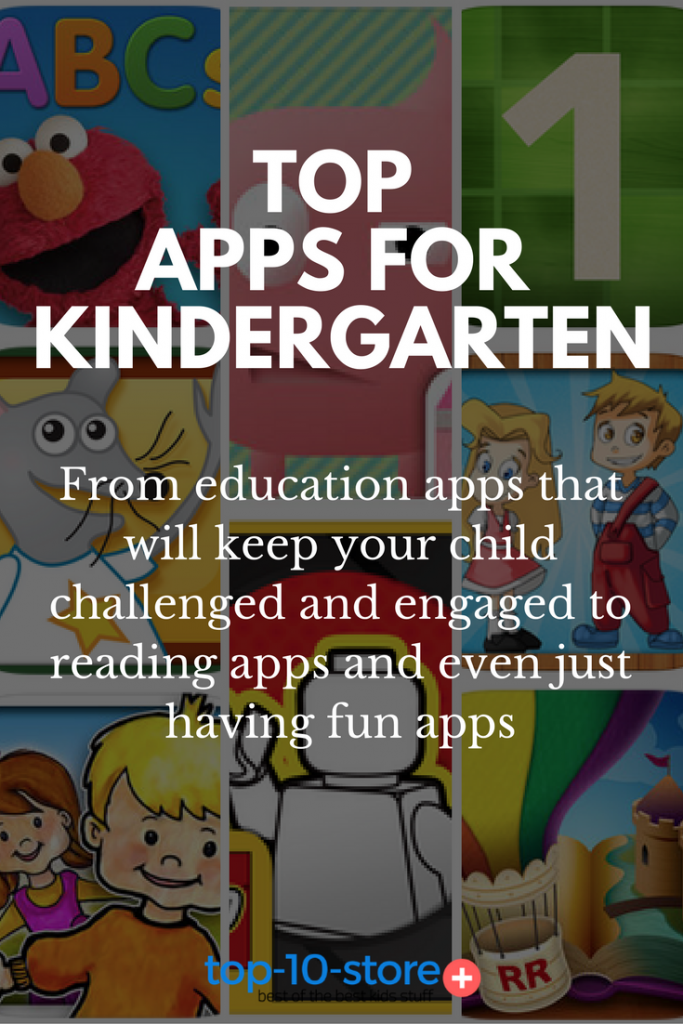 Our team of experts have been hard at work over the last few months hunting down the best apps for Kindergarten.
Finding apps to recommend for your child can be harder than is seems – picking the truly educational and skills based apps from the simple games take time.
Children at this age are really learning quickly. To get them off to a great start we focused on apps that help with learning and keeping children engaged. They really are our favorite apps for kindergarten-aged kids and we included all devices, including the best iPhone, iPad and Android apps for Kindergarten.
From educational games that will keep your kindergarten aged child challenged and engaged to fun reading apps and even the odd app for just having fun, here's our list.
Other App Categories: App by Grade, Apps by Age, Apps by Topic
Popular Top 10 Lists: Outdoor Toys For Toddlers, LEGO Sets, Educational Toys For 6 Year Old Kids, Educational Toys For 5 Year Old Kids, Fairy Tale Books, Books For 6 Year Olds, Books For 5 Year Olds, Educational Toys
---
Top 5 Apps for Kindergarten
Elmo loves this app! It has songs and videos about letters. It has coloring pages and games about letters. It has all the letters from A to Z! Elmo even made a new alphabet song for it. Elmo thinks it's the best ABC app ever!
Kids will have a blast navigating their Thinkrolls through a series of obstacles in brightly patterned mazes. Each chapter introduces a new object with unique physical properties which kids discover.
Intro to Math, by Montessorium offers an important comprehensive look at foundational number concepts, including comparison, sequencing, units and wholes, even and odd, and symbols.
My PlayHome is a doll house for the iGeneration. Imagine a doll house where your child can use everything, even the closets, TV and shower. Where you can fry an egg and feed the family pizza.
Simple tools and guides make it easy to shoot, edit, and even score your movie with music. Add one of the customizable title cards then share it online and, who knows, you may have the next summer blockbuster.
---
Top 5 Reading Apps for Kindergarten
If you've ever wondered whether you could help boost your kid's reading skills at the same time as they play on their iPad or iPhone, check out these great apps. These great learn-to-read apps for kids at Kindergarten age will help pass time and improve your child's ability to read.
Your child will hear, touch, read and eventually master this sound-spelling through a variety of engaging activities, movies, and songs. Play and explore!
Children ages 3-9 explore worlds of reading to discover storybooks and learn about such topics as animals, friends, family, science, space, music, and more.
Helps students develop word recognition, listening, and sentence skills. It presents words in random order & asks to drag them make the narrated sentence.
Presents ten stories about characters from the Bob Books series. Learners arrange letters to spell common sight words, tracing and spelling the words.
Provides endless creative fun with the letters of the alphabet as kids color and accessorize each letter. They listen to the letter names and sounds as they play.
---
Top 5 Education Apps for Kindergarten
Finding the right education apps for a kindergarten aged child can be tricky and tedious. There are literally thousands of apps that you can find for iPhone and Android devices. We've taken a stab at rounding out the best educational and skill-based apps. We tried to keep the list small, picking 5 of our favorite apps for kids in kindergarten.
Winky Think Logic Puzzles offer a ton of fun that is so engaging that users won't even realize just how important the skills are to learning. Each puzzle provides a mental challenge that requires problem solving, logic, memory, eye-hand coordination and other skills.
MiniChess by Kasparov is designed to help introduce young children to the game of chess through an engaging, interactive story. The game is loaded with dozens of puzzles and activities that teach the prerequisite skills for the game, and also sharpen spatial skills, math skills.
An educational app which teaches six different age appropriate subjects to Kindergarten aged children: sight words, addition, subtraction, spelling and writing letters and numbers. Parents can select which subjects they want, set different difficulty levels, and even choose questions
Alphatots is an unusual alphabet app that uses verbs instead of nouns for key words. This means that each letter has an associated action that kids can do instead of just look at. There is an opportunity to play and interact with each letter! A high quality app with some very creative ideas.
Wheels on the Bus is a fun, interactive musical book, based on the popular children's song. Come aboard the bus to spin the wheels, open and close the doors, swish the wipers, pop some bubbles, make a dog bark, and much more! Parents' Choice Gold Award.