Top Autism Apps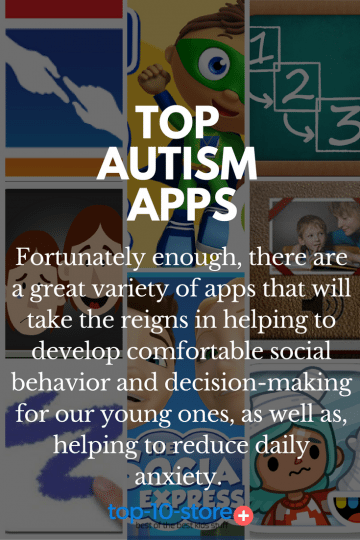 Autism Spectrum Disorder (ASD) affects a variety of everyday, life skills. But fortunately enough, there are a plethora of apps that will take the reigns in helping to develop comfortable social behavior and decision-making for our young ones, as well as, helping to reduce daily anxiety.
From storyboards to interactive games, there are a lot of fun ways to stimulate kids with different challenges. These apps pinpoint the needs of these special children without having them conform to something the rest of the population may be more used to.
Developing in different ways and at a difference rate than your peers – or even brothers and sisters – can be frustrating. But with the opportunity to participate in activities meant just for them, children with autism get a new way to strengthen their unique skills.
From becoming a doctor and bandaging up a patient to learning about emotions and the facial expressions that coincide, check out our favorite finds below.
Other App Categories: App by Grade, Apps by Age, Apps by Topic
Popular Preteen Top 10 Lists: Best Astronomy Apps for Kids,  Top Apps for Kids Ages 11-13, Top Apps For Kids Ages 6 – 8, Top 10 Floor Puzzles 2017, Best Toddler Apps
---
Top Autism Apps
Providing visual prompts, pictures, sounds and more to help with decision making and schedules, this app targets those with on the autism spectrum as well as those ADD, ADSD and other special needs conditions.  
Made for those with special communication needs, this app allow caregivers to reinforce positive behavior. Children learn what is expected of them by feeling appreciated and decreasing anxiety.
Induce relaxation and reduce anxiety with the Dreampad app. Creating a more mellow atmosphere for nighttime routines and even naptime, music comes alive with vibrating effects.
There's a variety of apps under the "Toca" umbrella that will allow children the freedom to experience a lot of different life scenarios. From bandaging a patient to creating a new hairstyle, your kids can take part in new stories they make for themselves.  
For autistic children that need help learning emotions and the facial expressions that come with it, Rufus is here to help! This is a great app for strengthening social skills. iOS App Store Google Play
Your kiddos get to go on an adventure with this one. Fine tune fine motor skills, use a bit of imagination and test out some vocabulary as well!
Aimed at children with social learning challenges, The Social Express is an interactive app that targets core deficit areas. From school and beyond, the animated visuals will encourage kids to practice social skills.
A visual story creator aimed at helping the communication skills of non-verbal children, you'll love the imaginative muscles that your own little one will be able to build within this app. Helping to remember events and teach social skills as well. iOS App Store 
A lot of children with autism have trouble recognizing common emotions through facial expression and with this app, they can learn how in a fun, interactive way. A combination of stories will show them the correlations and explain to them why things can make people feel certain ways.

There's so much to love and get creative with throughout Doodle Buddy. Which is its purpose, allowing kids to stretch them imagination and get outside their comfort zone with play.
---
Related App Lists
Arts, Crafts & Creativity Apps