We Reviewed Dozens Of The ​Best Arts, Crafts & Creativity Apps for Kids So You Don't Have To. Here Are Our Top Picks.
We've seen a huge increase in amazing apps that are full of fun arts and crafts ideas for children. Kids love to make things up and unleash their creative side. Try using the ideas in these apps as the inspiration for even better ideas.
Top Arts, Crafts & Creativity Apps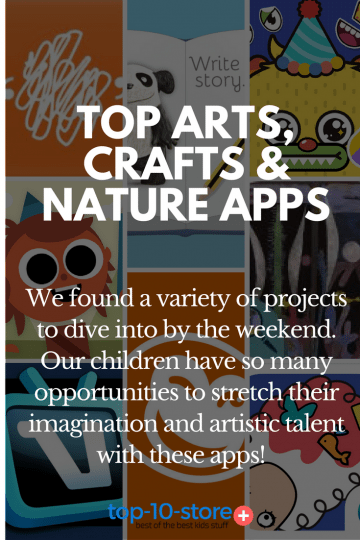 A pencil. A paintbrush. Some stickers. We found a variety of projects to dive into by the weekend. Our children have so many opportunities to stretch their imagination and artistic talent with these apps!
From painting fish that come to life to making their own giggle-induing videos, there's a plethora of creative outlets below. They can even try their hand at illustration and storytelling.
If you've got an artistic kiddo on your hands, utilize it and help him/her grow those skills. Thankfully, we live in a day and age with even more resources to help us do so.
Have them editing original photos. Have them designing a classroom that they'd actually want to spend a day in. Or allow them some time to connect with other likeminded children and swap DIY ideas!
Other App Categories: App by Grade, Apps by Age, Apps by Topic
Popular Preteen Top 10 Lists: Top 10 Drawing Books For Kids 2017, Best Astronomy Apps for Kids, Top Education Apps, Top 10 Joke Books for Kids 2017, Top 10 Travel Games for Kids 2017
---
Top Arts & Crafts Apps
For kids that love to draw, they'll love this app! Allow your child to turn themselves into an illustrator (and author) all with a few clicks on a button.  
With this app, kids will get to interact with their own virtual aquarium while using real-world artwork to create new scenes inside. You'll be able to watch your creations come to life!
Learn how to draw basic shapes with the help of Artie and his pencil. Within this adventures children will start stretching their artistic abilities from an early age.
Perfect for ages 8 and up, children get introduced to all kinds of artistic styles throughout this eBook. Then they can discover and "play" around with a bit of art history through interactive games.  
Combine art and the classroom with this fun and exciting app! Kids will get to designs every nook of this learning space, even the teacher's hair!
A companion app to the DIY site, kids can connect with other like-minded children their age while sharing their projects and DIYing skills. They're able to show off photos of their latest projects as well as search for other tutorials to try out at home. iOS App Store 
Sticker Story

Get crafty with this entire creativity kit for your kids! With this app, children will combine story-telling with self-expression. Illustration,
---
Top Creativity Apps
Picmonkey is free and will have your tweens editing and jazzing up photos in no time. Filters and all the latest effects are inside this easy-to-use app.
 

Get creative with some scary pals. With this app, kiddos can make and decorate their very own monsters! Once created, there's an opportunity to play with the creations!
Allow your children to spend some time creating their very own stories with the Create Storytime app. Along with words, you can add beautiful images to help the plot come to life!
VidRhythm
Your tweens will get a lot of giggles out of this one. They'll be able to record themselves and turn them into fun video remixes! Their favorite songs can easily become funny, favorites memories.
Over 40 million people around the world have already created a website using Weebly. With Weebly Mobile you can create a website, blog or store directly from your iPhone or iPad. For youngsters who want to create and share, this is the perfect way to use an intuitive drag-and-drop builder designed specifically for touchscreen with beautiful themes and tools to really allow children to express themselves.
---
Related App Lists