We Reviewed Dozens Of The ​Best Arts, Crafts & Creativity Apps for Kids So You Don't Have To. Here Are Our Top Picks.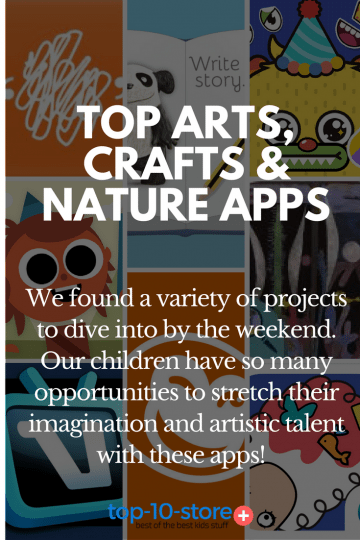 A pencil. A paintbrush. Some stickers. We found a variety of projects to dive into by the weekend. Our children have so many opportunities to stretch their imagination and artistic talent with these apps!
From painting fish that come to life to making their own giggle-induing videos, there's a plethora of creative outlets below. They can even try their hand at illustration and storytelling.
If you've got an artistic kiddo on your hands, utilize it and help him/her grow those skills. Thankfully, we live in a day and age with even more resources to help us do so.
Have them editing original photos. Have them designing a classroom that they'd actually want to spend a day in. Or allow them some time to connect with other likeminded children and swap DIY ideas!
Top Arts & Crafts Apps
Scribble Press – Creative Book Maker for Kids
iOS App Store / Google Play Store
For kids that love to draw, they'll love this app! Allow your child to turn themselves into an illustrator (and author) all with a few clicks on a button. The app includes powerhouse features such as video and audio export, over 300 tools to inspire creativity, and 30 fill-in-the-blank story starters to move around writer's block.
The app costs $4.99 and includes various book templates (including a blank book). There's a record your own voice feature and capability to put yourself into the story.
Artie's Magic Pencil
iOS App Store / Google Play Store
Learn how to draw basic shapes with the help of Artie and his pencil. Within this adventures children will start stretching their artistic abilities from an early age. This interactive app teaches children how to combine basic, familiar shapes to create representations of everything in the world around them.
The app costs $2.99. It's designed for children from ages 2 to 6.
Art Gurus
Combine art and the classroom with this fun and exciting app! Kids will get to design every nook of this learning space, even the teacher's hair! They can choose from 15 different colors and 18 reversible stickers to create outlandish and silly effects. There's even a magic wand that creates funky designs automatically.
The app costs ninety-nine cents. It includes a photo feature to snap a shot of the crazy classroom after a session. It's also designed specifically to be non-addictive. No worries that your child will use this app to excess-they will have fun and then be on their way to other activities.
Art of Glow
This digital version of the old Lite Brite toy will fascinate your child. Neon pictures, fireworks designs, twinkling stars and more are all possible. It's bright and fun and will bring out the artist in nearly anyone.
The app is completely free to download and play. It features animated particles that will bring pictures to life! You really need to see this one to believe it.
Coloring Book for Me
iOS App Store / Google Play Store
This coloring book app allows users to create their very own, unique mandalas to color. It's relaxing and fun! Users can also "color" pictures with their own photos to create unique works of art or import their photos in line-drawing format to make their own coloring picture outlines.
The app is free to download and try. It offers a range of subscription options from $4.99 to $39.99.
---
Top Creativity Apps
PicMonkey Photo Editor Design
iOS App Store / Google Play Store
Picmonkey is free and will have your tweens editing and jazzing up photos in no time. Filters and all the latest effects are inside this easy-to-use app. There are options for creative cropping, expanding and stretching, stickers, and many other effects.
The app is free to download and offers subscription options from $12.99 per month to $119.99 annually.
Create Storytime
Allow your children to spend some time creating their very own stories with the Create Storytime app. Along with words, you can add beautiful images to help the plot come to life! The app allows young authors to bring their stories to life. There is a library of images included as well.
The app costs $2.99 to download. It offers five additional image sets to take stories in new directions, too. Each one costs ninety-nine cents.
Weebly by Square
iOS App Store / Google Play Store
Over 40 million people around the world have already created a website using Weebly. With Weebly Mobile you can create a website, blog or store directly from your iPhone or iPad. For youngsters who want to create and share, this is the perfect way to use an intuitive drag-and-drop builder designed specifically for touchscreen with beautiful themes and tools to really allow children to express themselves.
The app is free to download and offers various in-app purchase options for professional subscriptions, domain registrations, and various other services.
Melody Jams
Kids can create their own songs and then choose instrument-playing characters to jam along. There are loads of creative possibilities with this outstanding app. Set the kids free to explore because it's completely safe for young players.
The app costs $2.99 and features some outstanding animations and sounds. Kids will have a blast creating and recreating songs. There are loads of surprises to uncover, as well.
Crafts and More Crafts
Kiwi Corner- Fun Hands-on Activities for Kids
Parents will love this app! There are thousands of hands-on home fun projects to explore. It's searchable, and includes a free DIY idea each day. You can browse by science, crafts, seasonal projects, and more, and even save your favorites so you can easily access them later.
The app is completely free to download and use. What a resource!
Labo Paper Fish
This app will tickle kids' fancies as they make 16 different types of sea creatures from digital paper. Once the fish are made, kids can play five different games with them, such as underwater photography and seabed maze. It's not a real world craft app, but it sure is close!
The app costs $1.99. It's highly rated on the App Store, and is intended for children 4 to 7 years old.
Children's Craft Ideas
Here are over 400 easy to follow video guides to help you and your children make all the crafts you could ever want. There are seasonal and holiday craft ideas, recipes, and decorative crafts, to name just a few categories.
The app costs $2.99 and offers craft ideas for children of all ages, from the simple to the complex.
Paper Craft Ideas
You'll salivate after this set of craft instructions when you take a look at it. It's got tons of ideas, and they are simple! There is even a selection of crafts appropriate for toddlers, which can be hard to find. There are seasonal crafts, decorative crafts, and crafts suitable for homemade gifts. You'll want to snap this one up right away.
The app is free to download. There are no in-app purchases, but there are advertisements. The materials needed are all things most people have around the house, and the crafts even use some recyclables, so you can teach the kids about repurposing while you are at it.
---
Related App Lists