We Reviewed Dozens Of The Best Middle School Apps So You Don't Have To. Here Are Our Top Picks.
This is a great list of apps that can be used in middle school learning environments. With over 100 of the best iPhone, iPad and Android apps for middle school students reviewed by our moms and teachers, we're sure you'll find the perfect app for your kids' needs.
Top Apps for Middle School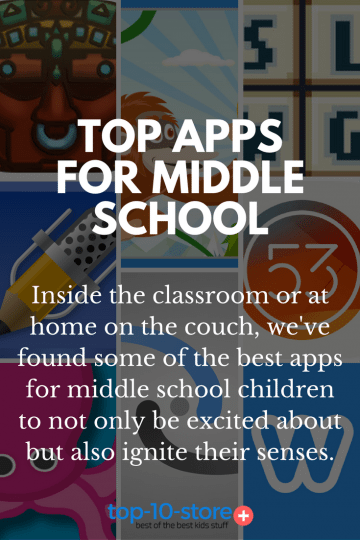 Whether it's inside the classroom or at home on the couch, we've found some of the best apps for middle school children to not only be excited about but also ones that will ignite their senses more so than aimless, mindless web-surfing.
We found some fun apps for the kids to explore their creativity with. But we've also found a few apps that can hone in on their problem-solving skills and brush up on their Maya math system translating – which is introduced during the middle grades.
Watch your middle schoolers dive into a mystery story, where they freshen up their comprehension abilities while immersing themselves in the plot. See them stretch their creativity by learning how to work a green screen or doodle in their sketchbooks on a whim.
Encourage your kids to have fun while learning or playing on their phone, iPads or computers. Instead of entertainment that provides zero brainpower, teach them that, even within the app store, there are ways to stay engaged while growing what's inside their minds.
Other App Categories: App by Grade, Apps by Age, Apps by Topic
Popular Lists: Best Special Education Apps for Kids, Best Music Apps for Kids, Best Education Apps for Kids
---
Top 5 Apps for Middle School
Over 40 million people around the world have already created a website using Weebly. With Weebly Mobile you can create a website, blog or store directly from your iPhone or iPad. For youngsters who want to create and share, this is the perfect way to use an intuitive drag-and-drop builder designed specifically for touchscreen with beautiful themes and tools to really allow children to express themselves.
This app will keep the kids' minds busy – in the best of ways – but entertained too. It's a puzzle-based game that makes you truly think on your feet. There aren't any gimmicky characters, instead the game stays simple forcing one to use their problem-solving skills. Be open-minded and give this one a try.
Are there any young Steven Spielberg's in your house? This movie maker app is great for kids with lots of creativity to spare. It easily makes green screen videos and photos come to the life for the user. It's such a versatile way for students to dive in and use their imaginations whether it's inside the classroom or at home with friends and family.  
If they want to doodle, let them! With the paper app, anything in their minds can come to life. Whether they want to jot down a letter to a friend or sketch a personal portrait, it's all at their fingertips. Upload photos and turn them into brand new pieces of art. Or create something entirely from scratch, it just starts with a spark of imagination.  
Get your monkeys from tree-to-tree! All you have to do is grow your stick to make it happen. There's strategy in this game so the kids will be having fun while using their brain and problem-solving skills, which always a plus. Play as a gorilla, a chimp, a baboon or even an orangutang, the goal will be the same, don't let the primates fall.  iTunes
---
Top 5 Education Apps For Middle School
The kids will be able to take notes in an entirely new (and more efficient way) with the Notability app! It empowers students to get involved while also feeling as though they're having fun in the classroom. Not only can they jot down the night's homework, but they can sketch out ideas or write in questions to remember to ask the teacher the next day when they're back at school. There's even a way to record lectures and listen to them when it's time to study for Friday's exams.
Make reading and comprehension a bit more fun with Clue Story. Kids won't even realize that they're testing and flexing their literary muscles within this interactive storybook. The user reads but also becomes the main character – and investigator – which makes that them much more invested in the plot. Read a chapter, watch a video, solve a riddle and repeat; you're in a control of the entire story.
Are you looking for your middle schooler to brush up his/her Maya numeral translation? Maya math system is a necessity for middle grades and this app makes learning it a bit easier. Users will translate randomly generated numbers while trying to get a higher score with every round.
Light Medley is a way to get your kids learning and having fun – or at least honing in on their memory skills. It's a simple premise, that could get a bit additive, but at least you know that their building brainpower with every new game. Watch the bulbs light up with a unique sequence and follow along as you repeat its medley.
Here's an app that will have the vocabulary bank growing with every game played. The key here though is that word bank will be growing within a foreign language. Kids will get better acquainted with an entirely new language, learning important words and phrases through fun and puzzles! Choose from English, Spanish, French,  Japanese or simplified Chinese.