We Reviewed Dozens Of The Best Apps for Kids Ages 11 – 13 So You Don't Have To. Here Are Our Top Picks.
Top Apps for Kids Ages 11 – 13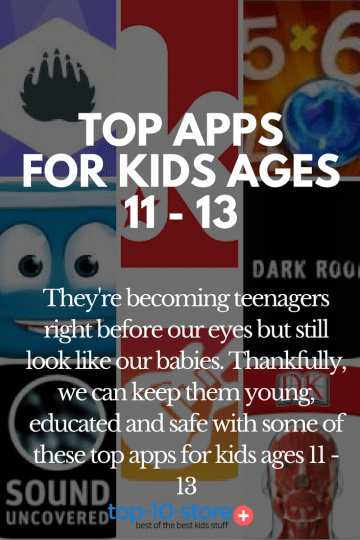 Preteens are scary. They're changing. They're moody. They're becoming teenagers right before our eyes but still look like our babies. Thankfully, we can keep them young, educated and safe with some of these top apps for kids ages 11 – 13.
From their first experiences with social media to becoming a book illustrator, we've found some of the best, most interactive applications around for our tweens to engage with.
With both creativity types to greatly educational, all of them are fun and functional. We've included our favorite photo editor and our most additive puzzle games below that even adults can appreciate.
Have your kiddos interacting with like-minded creatives within the DIY community or sharing their favorite photos with their friends in a safe environment. Allow them to spend time learning new languages, creating videos or diving into the human body.
Other App Categories: App by Grade, Apps by Age, Apps by Topic
Popular Preteen Top 10 Lists: Top 10 Drawing Books For Kids 2017, Best Astronomy Apps for Kids, Top 10 Board Games For Kids 2017, Top 10 Bikes For Boys 2017, Top 10 Toys For Ten-Year Old Girls, Top 10 Water Toys For Kids 2017
---
Top Creative Apps For Kids Ages 11 – 13
A companion app to the DIY site, kids can connect with other like-minded children their age while sharing their projects and DIYing skills. They're able to show off photos of their latest projects as well as search for other tutorials to try out at home.
Allow your kids to explore their musical creativity with this fun app that lets them. They can record and create their very own songs.
VidRhythm
Your tweens will get a lot of giggles out of this one. They'll be able to record themselves and turn them into fun video remixes! Their favorite songs can easily become funny, favorites memories.
For kids that love to draw, they'll love this app! Allow your child to turn themselves into an illustrator (and author) all with a few clicks on a button.  
Picmonkey is free and will have your tweens editing and jazzing up photos in no time. Filters and all the latest effects are inside this easy-to-use app.
---
Top Educational Tween Apps
This fun gaming app introducing kids to the world of coding. Children will learn the basics behind coding while having fun collecting stars and moving throughout the islands.  
Make math a bit more fun for the kids with this fun marble math game! They'll sharpen their math skills while playing through fun mazes and puzzles.
Have the kids dive deeper into the world of sound. They'll learn a lot of interesting facts while being completely engaged and entertained.
Learn all about the human-body within this award-winning app that provides stunning visuals and lots of great information too. Kids will have fun while learning about all the ins and outs of their own body.
You can learn a new language with this fun and free app. And there are lots of different languages to choose from including French, Italian and Spanish. 
---
Best Preteen Kids Apps
Kudos offers the perfect – and safest – way to introduce kids to the social media world. They'll be able to share photos while being taught proper online behavior.

A game of mystery that will sure to become an addictive and fun afternoon treat. It's a text-based game that takes players on an adventure of curiosity.
Have your kids fly through this entertaining and engaging graphic novel while learning some key lessons for life. They'll read as a group of friends take turns boosting each other's confidence – something they can take with them to their own friendships.
As long as you set the parental controls on the YouTube app, your kiddo will have endless hours (or limited hours) of fun. From funny cat videos to lots of educational treats you can find while browsing.  
As long as you set the parental controls on the YouTube app, your kiddo will have endless hours (or limited hours) of fun. From funny cat videos to lots of educational treats you can find while browsing. iOS App Store
---
Related App Lists
Arts, Crafts & Creativity Apps