We Reviewed Dozens Of The Best Apps for Kids Ages 9 – 11 So You Don't Have To. Here Are Our Top Picks.
Top Apps for Kids Ages 6 – 8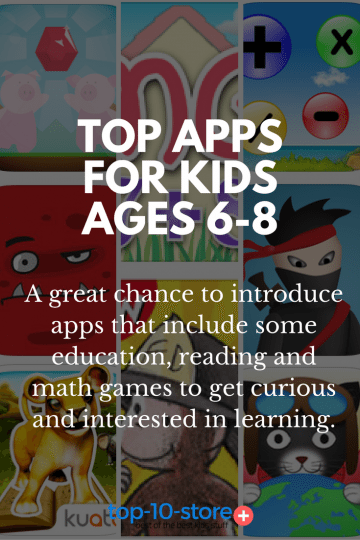 Children in the 6,7,8 year old stage are learning lots of fun and challenging things at school. The best apps for kids aged 6, 7 and 8 are all about spending time on things that lets kids practice in a fun and a rewarding way.
For kids in the 6-8 year old range it is a great chance to introduce apps as that including some reading and math games to get them curious and interested. As kids progress towards the second and third grade, apps with colorful games, stories, and other audiovisual material will help them bridge the schoolwork they learn every day with fun time at home. The closer to 8 years of age, the more math, reading and puzzle apps should challenges your children. That 6 year old who is naturally curious will grow into an 8 years old who (through school and home) has an energy and excitement for learning that is growing.
We didn't just stick the the iPhone either. The iPad is a great canvas and we found several iPad apps for kids ages 6-8, ranging from fun games to learning and interactive play.
Give your kids the tools to succeed. Help promote decision making and problem solving wrapped into an exciting list of fun apps that makes the entire learning journey fun. With that, please check out our top apps for kids ages 6-8.
Other App Categories: App by Grade, Apps by Age, Apps by Topic
Popular Toddler Top 10 Lists: Bikes For Toddlers , Scooters For Toddlers, Educational Toys For Toddlers, Ride-On Toys For Toddlers, Outdoor Toys For Toddlers, Coloring Books For Kids, Educational Toys, Toys For 2 Year Old Boys, LEGO Sets, Toddler Puzzles
---
Best Apps for Kids Age 6, 7, 8
Each chapter of Inventioneers presents a clear problem, such as moving a cat from the tree into its owner's basket. The interface is intuitive, allowing nearly anyone the ability to experiment and create until the problem is solved. Invention parts and small "helper" characters is provided.
Wonder Bunny Math Race is a comprehensive math computation practice app that will excite and entertain children for hours.  Its arcade-style racing action and point system will occupy the children's attention so fully that they will hardly even notice they are building vital skills such as speed.
Up To 100 helps children learn to recognize and form numbers between 1 and 99. It also helps children understand ones and tens place value and the relationship of digits to the number. It's very hands-on and offers a lot of different concrete experiences with numbers.
ScratchJr is a hands-on learning environment that allows young children (ages 5 to 7) to learn the basics of programming with a visual interface. It encourages and builds a host of vital skills, including problem-solving, organization, sequencing, and self-expression, in addition to building creativity.
Jazzy World Tour is a fabulous educational app that is full of awesome information about various countries around the world. Everything from music, instruments, foods, and other fun facts are included in this app with three ways to play. Players can learn fun facts in a really enjoyable game.
Use your math skills to defend your treehouse against a hungry tomato and his robotic army in this fun action packed game! Choose between ninja stars, smoke bombs, or ninja magic – and choose your upgrades wisely! The primary goal is to have fun – but you'll also greatly improve your Math skills along the way!​
PopMath is a fun game for kids of all ages to practice basic math. Pairs of bubbles float on the screen and your goal is to pop each pair. For example, one bubble says "7" and another says "3+4". Simply touch one bubble and then the other to pop them both. New levels increase the numbers shown in the bubbles.
Addition House makes every girl a MathGirl! Build your own customized play house by getting faster at adding flowers.  A fun game designed for girls + an engaging "right-brain" approach to numbers + cute, fresh graphics = Math Success. A 5-year-old can tackle the first 2 to 5 levels. Girls will get faster at adding.
The puzzle game play is similar to popular jewel swapping games but with multi-touch swap, enabling more complicated and challenging matching for addicts of tile-matching puzzlers. True addicts can match their skills against others on Game Center and unlock secret levels. Reduce stress while training the brain.
Your mission: Help a friendly and curious little ghost rescue the fireflies that are hidden in Mystery Math Town. Players use math skills to unlock rooms and passages on their enchanting journey. Along the way, you can also earn talking portraits of the townspeople for your Gallery. Every picture has a story to tell.
Pete & Mike are adventurous little pigs and best friends. The people of a small town are frightened by a dragon living in a cave in a nearby mountain. The town is constantly in need of repair, and the townspeople need protection! Pete & Mike come to their rescue, help repair the town, and uncover a mystery that could change everything.  Read Review, Read Review,
Neighborhood Watch Kids and Duh Color Stuff ™ is an exciting adventure story in which five brave young kids and their pet dog set out to save their neighborhood. Join Arnold, Maya, Johnny, Suzie, Billy and Paw in their amazing journey to self-discovery. Help them overcome their differences, make the right choices and work together to solve. Read Review, Read Review,
Safari Tales follows in the fossilised footsteps of the award-winning Dino Tales and opens up a world of exploration, learning and story-telling across the African savanna. Seen through the eyes of five cute baby animals, Safari Tales sets young safari adventurers free to explore a fertile African world. There is a multitude of games. Read Review, Read Review,
Painting Lulu is a Paper-to-Digital Coloring Pack that includes a paper coloring book, a digital crayon, and an app. Kids draw on paper with regular crayons, scan the pages using the free app on any mobile device, and continue to decorate, correct, and share their drawing digitally! Kids enjoy the real feel of using crayons, markers and more. Read Review, Read Review,
Makesto is an incredibly creative story building app that allows children to be the author, illustrator, and producer of their own creations. With loads of features including pictures, drawing, voice record, and the ability to share their creations with others, this app offers loads of creative freedom for children of all ages.  Read Review, Read Review, 
---
Related App Lists
1st Grade Reading Apps
1st Grade Math Apps
1st Grade Educational Apps
Best Apps for Kids. 1st Grade Apps