We Reviewed The Most Awesome Apps for Kids Under 5 So You Don't Have To. Here Are Our Top Picks.
Toddlers and preschoolers are excited about the world and about learning. Apps for preschoolers can open up a world of possibilities and fun for young children who are really starting to get interested in the world and are learning at a very fast pace.
These apps are very nice for young children. They bring out all the best from your device, take full advantage of digital capabilities, and will help your kids learn and grow in many ways. Here are some fun and educational apps for preschoolers that we rated and loved.
Top Apps for Kids Ages 5 & Under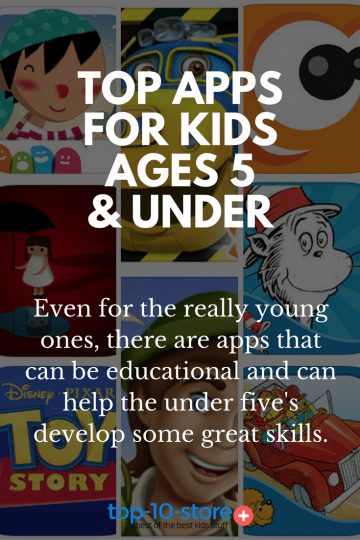 Our team of moms locked themselves in a room for six months until they unearthed their recommended list of apps for children under five years of age. That's right folks, even for the really young ones, there are apps that can be educational and can help the under five's develop some great skills.
The reality is that children this young are like sponges. They soak up a lot and learn very fast if you can keep them engaged and exploring. Our favorite apps for kids ages 5 and under are perfect for the little ones who are just starting to interact with the world in new and exciting ways.
The toddler apps we chose have a nice mix between games and learning apps all designed with engagement in mind. These apps have been tested by our children so we can confirm that they're good enough to hold a child's attention.
From music apps where simply tapping the screen creates sounds that the really young can react to, all the way to educational games that will keep your five year old challenged and learning while having fun, we think we have the best apps for kids ages 5 and under.
Other App Categories: App by Grade, Apps by Age, Apps by Topic
Popular Toddler Top 10 Lists: Bikes For Toddlers , Scooters For Toddlers, Educational Toys For Toddlers, Ride-On Toys For Toddlers, Outdoor Toys For Toddlers, Coloring Books For Kids, Educational Toys, Toys For 2 Year Old Boys, LEGO Sets, Toddler Puzzles
---
Really Young Children's Apps
Baby's Musical Hands
iOS App Store / Google Play Store
Baby's Musical Hands is an award-winning musical toy for babies and toddlers for the iPad, iPhone, and iPod touch, as well as Android devices. Every time baby touches the screen, colorful stars and musical sounds burst from the device. The app supports multi-touch, so the more fingers, the better!
This app costs ninety-nine cents. It's very safe for kids and loads of fun.
Bogga Magic – Play a Magician, for Kids
iOS App Store / Google Play Store
Give your kids a touch of magic and appetite for wonder! Magic tricks are not only fun – they also spark creativity. Kids can watch and even join the performance. The app also has some hidden tricks to reveal. Can your child find them all?
The app costs $3.99 and has a solid rating on the App Store. It's won a few awards, too, so check it out!
Animal Sounds
iOS App Store / Google Play Store
Learn together with your baby or toddler, or let them discover a world of farmyard fun themselves. Simple, endlessly enjoyable, and fun, this app will keep them occupied and learning for a long time to come. There are more than 50 sounds waiting for baby. And you can set the app to any one of 17 different languages.
This app is free to download. There are in-app purchases to unlock more animals for costs ranging from ninety-nine cents to $1.99, or you can unlock all of them with a single purchase of $2.99.
Busy Shapes
iOS App Store / Google Play Store
Busy Shapes helps children improve their ability to handle simple objects through a series of puzzles. This app encourages experimentation and learning using gentle guidance and no-fail scenarios. It also has a lot of features designed with baby in mind. Parents can limit access to the home button and "turn off" parts of the screen to make sure baby doesn't accidentally exit the app, for example.
This app costs $2.99. It is very child-safe and child-friendly.
Duckie Deck Collection
This cheerful collection from Duckie Deck includes six fun and friendly games for kids aged 2-5 years. Kids can practice visual matching skills, experience digital versions of everyday activities, get excited about trying different types of foods, practice caring for a pet, and much more. The app is wholesome and delightful.
Duckie Deck Collection costs $2.99 and is complete. It is also very child-safe so you can relax while your child is playing.
Endless Numbers
iOS App Store / Google Play Store
Kids will have a blast learning number recognition, sequences, quantity, numerical patterns, and addition with adorable monsters. The app uses fun learning activities and animated video clips to help kids put context to the numbers.
The app is free to download and includes the first five numbers. You can get more numbers for prices ranging from $6.99 to $14.99.
Endless Alphabet
iOS App Store / Google Play Store
Kids will have a blast learning their ABC's and building vocabulary with the adorable monsters in Endless Alphabet. So much fun. Each letter features an interactive puzzle game and a short video clip demonstrating the definition of the key word. Can you imagine your little one spouting words like "gargantuan"?  Once everything is downloaded, there's no need to be online to use this app.
The app costs $8.99 and is complete.
Sago Mini World
iOS App Store / Google Play Store
Go on a play date with your favourite Sago Mini friends! Take a walk to a friend's house and let the fun begin. Help Robin the bird fix a birdhouse. There are over 30 games in this app. Kids can enjoy them year round and for hours. This app gives you access to a bunch of Sago games all at once.
The app is free to download. After a short trial, you'll need to subscribe. The cost is $6.99 monthly or $44.99 annually.
Cookie Monster's Challenge
iOS App Store / Google Play Store
Cookie Monster's Challenge gives young children a healthy treat as they play with one of their favorite characters. There are 10 minigames that will challenge your children and help them learn. Skills such as self-control, focus, following directions and more are the focus of the games. And what child can resiste collecting pieces to make a giant cookie-making contraption?
This app costs $2.99. It features a favorite character, and kids are sure to love it. Great app.
Avokiddo ABC Ride
iOS App Store / Google Play Store
Have you ever seen the letter E hatched from an egg? How about a K popping out of a kangaroo's pouch? This app features fun puzzles, hidden letters, and much, much more. Even the verbs match up with the letters- see the seal swim, and the letter H hiding under the hat. The app introduces alliterations in a way that no other app does.
The app costs $2.99 and is one of the best alphabet apps available.
---
Nursery School Age Children's Apps
Grandma's Preschool
iOS App Store / Google Play Store
Grandma's Preschool is a great virtual learning app with lots of fun, interactive learning games and activities for children to explore. There are 11 educational games, puzzles, and other challenges in this app. The topics covered include beginning sounds, matching, number words, colors, and more. There are also 13 educational videos.
This app costs $3.99 and even includes an interactive classroom for kids to explore.
Monkey Preschool Explorers
iOS App Store / Google Play Store
Lead the way by learning the fundamentals of early education: numbers, upper and lower case letters, colors, shapes and more. While kids play, they will develop skills such as creative thinking and working memory. Plus, the app has monkeys! In Rovers that kids can customize! What could be better than that?
The app costs $2.99 and includes over 100 puzzles, games and activities.
AlphaTots
iOS App Store / Google Play Store
Fun tool for helping children learn the alphabet. Filled with creative and clever interactive activities, the app reinforces letters. The app is unique because it uses verbs as the keywords for each letter. Each letter has its own minigames and puzzles, too.
The app costs $2.99 and is very child-safe. Kids will also see both capital and lower case versions of each letter which will help them when they get ready to read.
Noggin Preschool
iOS App Store / Google Play Store
Hang onto your hat, baby! Here are all of your child's favorite characters from Nickelodeon shows to teach beginning skills. There are ebooks galore, fun games, and even instructional videos. The app covers basic math skills, basic literacy, and much more.
Download the app and get a 7-day free trial. After that, a subscription costs $7.99 per month.
Beck and Bo
iOS App Store / Google Play Store
Beck and Bo is a fun educational app that is sure to engage your little kids in a creative way, while helping them build their vocabulary. Kids can create based on a dozen thematic scenes from everyday life. They'll need to drag and drop characters, animals and objects into the right spots to solve the puzzles, then they can cut loose with creative pretend play.
This app costs $2.99 and is very child-safe and easy to use.
Bubble Puppy: Play & Learn
iOS App Store / Google Play Store
Send your child swimming into a fin-tastic play date with Bubble Puppy! Kids can dress him up in fun outfits, feed him all kinds of treats and groom him. The app covers lots of levels of social-emotional learning, literacy, math, social skills, and more. Parents can adjust the challenge level to make sure each activity is exactly right for their child.
Bubble Puppy costs $3.99. It's from Nickelodeon, and very child-safe and child-friendly.
Dr. Panda & Toto's Treehouse
iOS App Store / Google Play Store
"I live in a big treehouse all by myself, and I need you to help me make food, wash up, and of course play together! We can play basketball or go on the tire swing." Kids can care for Toto, the newly-hatched baby turtle. They can help him with everyday tasks, play with him, feed him, and more. Along the way, they can explore Toto's magical, marvelous treehouse.
The app costs $3.99. It's easy to use and very child-safe.
Daniel Tiger's Day & Night
iOS App Store / Google Play Store
Learn about morning and bedtime routines with PBS KIDS' Daniel Tiger. Help Daniel get ready for school in the morning and for bed at night through imaginative play. This app features 8 games about morning and nighttime routines that kids need in their lives. They will love the sing-along songs, too. The app even includes a musical timer to help keep the child's real routines on track.
The app costs just $2.99 and is complete.
LEGO® Juniors Create & Cruise
Create & Cruise provides plenty of inspiration for real-life LEGO® builds and imaginative play scenarios you can talk to your child about – why princess is driving and more. Kids can collect in-game coins to unlock new pieces and get some inspiration about things they can build with their real-life play sets.
The app is free to download.
Kids Academy Talented and Gifted
iOS App Store / Google Play Store
This whopping big app includes over 5,000 learning activities suitable for kids from ages 2 to 10. The app will guide you in setting up a personalized learning plan for your child so it won't seem overwhelming at all. Help them lay the groundwork for reading, writing and math. Let them play classifying and matching games. Everything in this app will help build a foundation for learning.
The app is free to download, and includes some of the listed content. More can be acquired by in-app purchases of $2.99 per topic. There is also a subscription plan to unlock everything. It costs $19.99 per month, $39.99 for a quarter, and $129.99 annually.
Endless Reader
iOS App Store / Google Play Store
This app introduces "sight words", the most commonly used words in school, library, and children's books. Kids need to recognize these words by sight in order to achieve reading fluency. There are 6 words to try for free, so kids can check out the fun animations, video clips and games.
The app is free to download and try. Ten additional word packs that cover more sight words can be purchased for $5.99 each.
Curious World: Play Learn Grow
This app holds lots of children's favorite characters, including Curious George and Arthur. They will help children develop curiosity, problem-solving skills, social-emotional skills, and creative expression, to name a few. There are languages, new words, coding and other types of activities to explore, too.
This award-winning app is free to download and play some of the features. To access its full power, though, you will need a subscription. A monthly subscription costs $7.99 and an annual one costs $64.99.
ABCmouse.com
iOS App Store / Google Play Store
Here's an award winner with over 10,000 activities for kids from ages 2 to 8. It covers pretty much the entire preschool curriculum and then some. There are 850 lessons spread over 10 levels. The standards-based activities are designed to take kids from kindergarten readiness to third grade readiness. Parents can set up and monitor individualized learning paths, and it's great for homeschoolers as well as families on the go.
The app is free to download and try. Subscriptions cost $9.99 per month or $79.99 annually.
ABC's: Alphabet Learning Game
iOS App Store / Google Play Store
Toddlers and tots will love learning about reading and writing with the ABC's: Alphabet Learning Game. Designed to introduce your little ones to the wonderful world words. With a guide named VocabuLarry the Parrot, kids will explore loads of letters and words. With VocabuLarry's help, they will begin to sound out words, too.
This app is free to download and play.
Hopster: Preschool Learning
iOS App Store / Google Play Store
Children can learn beginning math, basic preliteracy, ABCs and more from this app. It allows them access to a wide array of children's television shows that you can download and watch offline. There are also great books and fabulous sing-along music. This app is a one-stop-shop for things your preschooler will need to learn to be a star in kindergarten. It's also great for traveling or waiting times.
Hopster is free to download and offers subscription plans on a monthly, quarterly, semi-annually, or annual basis. The costs range from $6.99 to $60.99.
Reading Eggs – Learn to Read
iOS App Store / Google Play Store
This subscription-based app provides kids with access to early reading activities and games as well as early readers that they will love. It covers reading skills from ages 2 to 9 in five comprehensive levels. Kids will go from learning their ABCs to reading words to managing whole stories in no time.
The first month's subscription is free, so you can see if it's right for your child. After that, you'll need a subscription for each child. The first child will cost $9.99 per month, and additional kids from the same family can subscribe for $4.99 per month.
---
Kindergarten Aged Kids Apps
Elmo Loves ABCs
Elmo loves this app! It has songs and videos about letters. It has coloring pages and games about letters. It has all the letters from A to Z! Elmo even made a new alphabet song for it. Elmo thinks it's the best ABC app ever!  There are 80 classic Sesame Street video clips and 75 coloring activities to discover as kids trace and complete the other alphabet activities.
The app costs $4.99 and offers in-app purchase of additional content for ninety-nine cents.
ThinkRolls
iOS App Store / Google Play Store
Kids will have a blast navigating their Thinkrolls through a series of obstacles in brightly patterned mazes. Each chapter introduces a new object with unique physical properties which kids discover. These logic puzzles will challenge your kindergartener, your elementary student, and maybe even you! And if you like this one, look for the other apps in this series.
The app costs $3.99.
Montessorium: Intro to Math
Intro to Math, by Montessorium offers an important comprehensive look at foundational number concepts, including comparison, sequencing, units and wholes, even and odd, and symbols. This app looks at beginning math skills through the lens of Montessori methodology, which some kids really do well with. It's very hands on and interactive. The app covers numbers 0-9.
The app costs $4.99 and has a solid rating on the App Store.
My Play Home
iOS App Store / Google Play Store
My PlayHome is a doll house for the iGeneration. Imagine a doll house where your child can use everything, even the closets, TV and shower. You can fry an egg and feed the family pizza. Now kids can play with dollhouses they love, virtually. It's great for on the go families, or families that don't have space for a traditional doll house.
The app costs $3.99 complete. It's got out of this world ratings on both app stores, as well.
The LEGO® Movie Maker 2
iOS App Store / Google Play Store
Young ones might need a little bit of help with this one, but who doesn't love making a movie? Kids can use their LEGO sets and act out scenes from the movies they've seen, or they can take off on their own imaginary flights. It makes a great family project with your little one.
The app is free to download. There are some features that need to be accessed though a LEGO account.
Starfall Learn to Read
iOS App Store / Google Play Store
Your child will hear, touch, read and eventually master this sound-spelling through a variety of engaging activities, movies, and songs. Play and explore! The experts at Starfall have created a great app to help your child using the expertise they've been developing with their website that's been online since 2002.
The app is free to download and use. Kids will love it!
SkyBrary- Kids' Books and Videos
iOS App Store / Google Play Store
Children ages 3-9 explore worlds of reading to discover storybooks and learn about such topics as animals, friends, family, science, space, music, and more. This app is from the people at Reading is Fundamental (RIF), and it's designed to get kids excited about reading. Parents can create customized profiles for up to three children at no extra cost.
The app is free to download and includes a 1 month free trial. After that, a subscription costs $4.99 per month or $39.99 annually.
Coral Reef by TinyBop
Kids will love interacting with this app- it teaches all about the amazing ecosystem of the coral reef. The app is a mixture of teaching and playing that is perfect for children in kindergarten. It gives them a chance to try out real scientific skills and make observations as they play. What fun to play hide and seek with an octopus!
The app costs $2.99. It aligns with school curricula and is standards-based.
Bob Books Reading Sight Words
Sight words are one of the most critical skills for young readers to master, and this app will help them along that road. It's a digital version of books that are commonly used in kindergarten to teach this crucial first words. The app presents ten stories about characters from the Bob Books series. Learners arrange letters to spell common sight words, tracing and spelling the words.
Bob Books Reading Sight Words costs $2.99.
ABC Gurus
Provides endless creative fun with the letters of the alphabet as kids color and accessorize each letter. They listen to the letter names and sounds as they play. This app helps children build phonemic awareness skills, which are foundational for later success with phonics. Phonemic awareness is what allows us to separate words into individual sounds and syllables, put sounds in sequence, and more. Kindergarteners will love this app where they get to decorate the letters as they learn.
The app costs $1.99, and is perfect for kindergarteners.
Winky Think Logic Puzzles
Winky Think Logic Puzzles offer a ton of fun that is so engaging that users won't even realize just how important the skills are to learning. Each puzzle provides a mental challenge that requires problem solving, logic, memory, eye-hand coordination and other skills. There are 180 challenging puzzles based on the same skills that are the focus of the Common Core Standards for Kindergarten math.
This app costs $2.99 and will keep your kindergartener occupied for a very long time (and maybe you too!).
MiniChess by Kasparov
iOS App Store / Google Play Store
MiniChess by Kasparov is designed to help introduce young children to the game of chess through an engaging, interactive story. The game is loaded with dozens of puzzles and activities that teach the prerequisite skills for the game, and also sharpen spatial skills, math skills. This app is recommended for children ages 5 and up.
The app costs $1.99.
TeachMe: Kindergarten
An educational app which teaches six different age appropriate subjects to Kindergarten aged children: sight words, addition, subtraction, spelling and writing letters and numbers. Parents can select which subjects they want, set different difficulty levels, and even choose questions. This award winner tackles 6 different topics important to the kindergarten curriculum. It's got a parent monitoring system, too.
The app costs $1.99.
Wheels on the Bus
iOS App Store / Google Play Store
Wheels on the Bus is a fun, interactive musical book, based on the popular children's song. Come aboard the bus to spin the wheels, open and close the doors, swish the wipers, pop some bubbles, make a dog bark, and much more! This app won the Parents' Choice Gold Award.
This app is free to download. It's from the experts at Duck Duck Moose, so you know it's safe and easy to play.
---
Related App Lists
1st Grade Reading Apps
1st Grade Math Apps
1st Grade Educational Apps
Best Apps for Kids. 1st Grade Apps