BRIO World – Railway in iTunes App Review
App Info
Price: $1.99
Overview
Enter a virtual world of railroad and trains with the new BRIO World – Railway app! Children will absolutely building with the classic BRIO railway sets and creating their world as big as their imagination! Complete with tracks, stations, landscaping and people, this app will provide hours and hours of creative fun for your little ones!
Play begins by selecting a blank piece of land that your child can name whatever they choose. Now the real fun can start! The building pieces are listed on the side of the screen. To place a piece, simply tap on the one you want and drag it onto the screen where you want it placed. Continue selecting and placing pieces until your track is completed. Now you can add buildings, trees, bushes, lakes and bridges. You can also add people to your world that actually interact with the player. Little idea bubbles will pop up over their heads and they will show you where they want to go. Move them where they want to go and you can earn points that can be used to purchase more parts and accessories for your world! The final piece you need to complete your world is a train! Visit the train depot for a variety of trains and cars to ride your rail. Use the conductor's controls to move the train around the track however you want!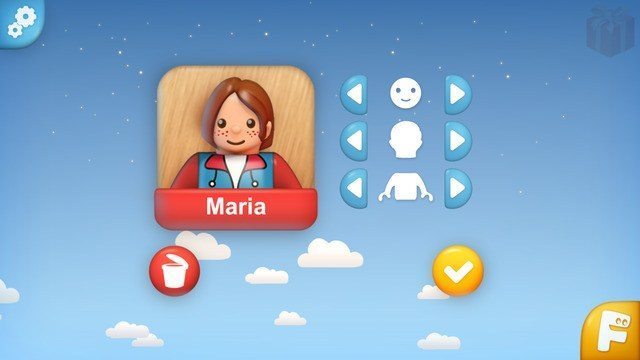 Ever since I downloaded this app, all my preschooler has wanted to do is play with these trains. He loves this app so much and so do I! I love it because it gives my son railroad pieces and trains to play with and I don't have the mess to clean up! Now is the perfect time to get this app because until April 1st it is discounted by 30% in the iTunes store! The more they play, the more they earn so they will want to keep playing to earn more and more things to play with. Their imaginations will run wild as they build, create and play.