We Reviewed Dozens Of The Best Learning ABCs Apps for Kids So You Don't Have To. Here Are Our Top Picks.
Did you know that children start laying the foundation for reading in infancy? The earlier they begin to have experiences with letters and words, the more equipped they will be to learn to read when the time is right. So show them letters, talk about sounds, and generally operate like they understand you. And sooner or later, they will!
New alphabet apps are popping up every day. Some are best for younger kids around preschool age and others are for kids who are ready to read and learn their alphabet. We searched far and wide and found some great alphabet apps that are unique and fun. Here are some of the most Amazing Alphabet Apps For Kids! Our roundup of some of the best alphabet apps out there!
Endless Alphabet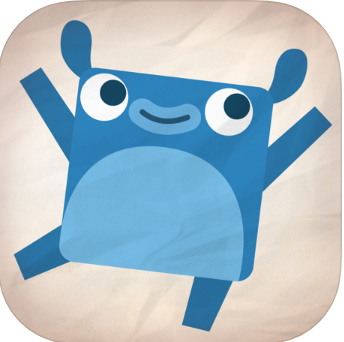 Price: $8.99 on iOS App Store; Free on Google Play Store with in-app purchase of $8.99 to unlock content
iOS App Store / Google Play Store
One of my all-time favorite educational apps, Endless Alphabet, also scored the 2o13 App of the Year Runner-Up in the App Store.  Endless Alphabet is a beautifully designed alphabet app for kids that features an immersive, interactive experience.  Kids will join all sorts of little monsters as they build their vocabulary, literally.  Each word in the app features an interactive puzzle game with talking letters, and a short animation that will illustrate the definition of the word.  There are over 50 words to learn (in an ever-growing collection).  This app is not to be missed!
It's consistently highly-rated on both app stores. It's also very popular with users, having a whopping 4.7 stars on both app stores.
Dinosaur Train A to Z

Price: $1.99 with in-app purchases
The Dinosaur Train A to Z app teaches children their dinosaur alphabet from A to Z!  Brought to you by PBS KIDS, this alphabet app features the essential dinosaur collection, and encourages children to explore the subjects of life science and natural history.  Through the letters of the alphabet, children will learn about 26 dinosaurs – feeding them, x-raying them, and learning unique facts about each one along the way!  The app also features a dinosaur index with sorting and classification filters to help children build their science inquiry skills.
It offers in-app purchases of packs of other groups of dinosaurs for ninety-nine cents each or an ultimate complete pack for $4.99. This is definitely one unique alphabet app you don't want to miss!
AlphaTots Alphabet

Price: $2.99
iOS App Store / Google Play Store
AlphaTots Alphabet app is a great alphabet app brought to you by Spinlight Studio.  This app introduces the alphabet through 26 action verbs…b is for building robots, d is for digging for treasure, and z is for zapping alien spaceships!  Each letter of the alphabet features a fun preschool puzzle or mini-game that will teach children the letter as well as an action verb that begins with that particular letter.
In addition to the interactive alphabet, there is also a great sing-a-long song to help children memorize their ABC's.  A perfect alphabet app that will help your child spring into learning!
ABC Alphabet Phonics Games for Kids Based on Montessori Learning Approach

Price: $1.99 with in-app purchases
ABC Alphabet Phonics is an awesome take on animated flashcards.  Kids can enjoy 26 animated flashcards, one for each letter of the alphabet.  Kids can learn their alphabet, as well as phonics sounds as they explore the interactive elements of each page.  Each letter page has multiple touch points that allow children to interact as they expand their vocabulary – there are over 100 interactions.  This app is full of phonetic fun and great interactive learning opportunities!
The app costs $1.99 and offers in-app purchase to add functionality such as letter tracing, vowel sounds and more for $2.99 each. You can also purchase the "all in one learning center" for $9.99.
Elmo Loves ABCs

Price: $4.99 with in-app purchases
This award-winner has songs and videos about each letter. There are coloring pages and other activities, too. Kids will learn about letter sounds, letter tracing, and much, much more.
The app has some in-app purchases. There is a seasonal fun pack available for ninety-nine cents. One unique feature about this app is you can add your own content to help your child learn even more.
Dr. Seuss's ABC

Price: $3.99
iOS App Store / Google Play Store
No collection of ABC apps would be complete without mentioning this classic! The ebook version comes from Oceanhouse Media, so you know it's high quality. Each page features surprises and interactions to explore, all related to the letter in focus. It's hilarious and fun and engaging.
Dr. Seuss's ABC is very inexpensive for all of the hours of fun and learning your child will enjoy.
Alphabet Sounds Word Study

Price: $2.99
This app is just the ticket when your child is ready to transition from learning ABCs to learning how to read. It feeds students developmentally appropriate spelling activities that are designed to move them forward in the same way that spelling naturally develops. Don't be surprised as your young learner starts to represent beginning sounds, then ending sounds, then medial vowels- this is exactly what is supposed to happen! Left to develop in this way, children learn to conform more and more of their invented spellings to more conventional versions over the course of the elementary years.
This app will nudge them along a developmental spelling pathway. It makes a great supplement to the rote-learning lists so common in the early grades because it is more developmentally appropriate.
Joy Joy ABC 123 Tracing Game

Price: Free with in-app purchases to unlock content
iOS App Store / Google Play Store
Is it time for your child to start learning to write? This app provides some great stepping-stones. There are tracing opportunities galore here, as well as letter matching and some other games that will keep toddlers and preschoolers engaged as they learn.
The free version of the app is limited. You will need to make in-app purchases to unlock all the letters, access additional games, and remove ads.
Interactive Alphabet ABC's

Price: $2.99
iOS App Store
Interactive Alphabete ABC's is designed to grow with your young child as he or she learns about letters. The "Baby Mode" introduces the very young to letters by showing the interactive toys. Later, children can trace letters, and eventually pair the letters with sounds and words that begin with the key letter.
The app is designed to allow both writing and typing. Parents can add their own content, too, which is amazing. This app has some great features for young children or those with special needs. You should check it out today!
ABC Kids – Tracing & Phonics

Price: Free
iOS App Store / Google Play Store
Fun, simple, and free are some great words to describe ABC Kids – Tracing & Phonics. This app offers low-key and engaging alphabet experiences that are just right for toddlers and preschoolers who'd like to begin to learn about reading. There are tracing activities, pictures that help children associate key words with letters, and matching games that will challenge them.
The app is full-featured and free, with no advertisements or in-app purchases, which will set parents' minds at ease.
Starfall ABCs

Price: Free
iOS App Store / Google Play Store
Here's a gem from the creators of the Starfall website for beginning readers. Kids will see, hear, and interact with letters, words, and even entire sentences in this wonderful app that supports prereading and reading readiness skills.
The app is a great supplemental source for learning in the toddler and preschooler years, and offers an outstanding opportunity for parents and caregivers to chime in and learn how to help young ones get ready to read. Be sure to take time to use it with your children!
LetterSchool – Learn to Write

Price: Free with in-app subscription purchases
iOS App Store / Google Play Store
LetterSchool – Learn to Write is nearly perfect as a tracing app. It helps children learn how to form all the letters, capital and lower case, in a variety of styles from block letters to cursive, and more. The app also includes number tracing, geometric shape tracing, and simple CVC (consonant-vowel-consonant) words to read and trace.
There is a parent tracking system so you can see and document children's progress. Kids will adore the engaging animations, and parents and teachers will appreciate the great activities and content. The in-app purchases offer various subscription plans.