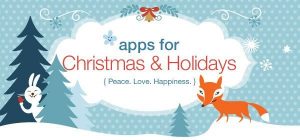 Seasons Greetings! We believe in being respectful of other cultures and having a fun time. While there are many Christmas apps, it doesn't mean we didn't try to find others.
However you celebrate we wish you all love, happiness and a healthy dose of unhealthy food!
If you would like us to add any other holiday apps, please feel free to leave a comment below.
Some apps may be rated age 9+.
  Check out our Facebook Christmas & Holiday app giveaway!
Fun & Game Apps for Kids
Book Apps for Kids
Educational Apps for Kids
Art, Music, Creativity Apps for Kids