Do you have a little one that likes to keep busy and loves to learn? Playground HD is a new app that is perfect for little ones who like to play and keep on the move – because it features 10 different games all in one app! I was very impressed with the variety of games in Playground HD – let's do a quick summary of all 10 games…
1) Search – In the Search game, the object is to find the differences in the two pictures you are shown. The pictures are very similar but have 5 things that are different within them…you know, one of these things is not like the other one, which is it? This game is great for critical thinking and learning to pay attention to detail.
2) Pairs – In the Pairs game, your little one will be given a set of cards that are turned over and try to match all the pairs by turning the cards over one at a time then looking for a match. You will start with 4 cards (2 pairs), and keep adding cards to increase the number of pairs to be found. Much like the memory game we all know, it is a fun one and great for testing your little one's memory skills.
3) Puzzle – The Puzzle game features an outline of an animal that needs to be filled in with the puzzle pieces given. There are many animals to choose from and you simply choose the animal puzzle you wish to do and then drag and drop the pieces to solve the puzzle. All of the puzzles have 8 pieces and are not to difficult, but may require help for younger children.
4) Draw – The Draw game is perfect for those little ones who like to make creations of their own. You are able to paint/draw on a blank canvas, or color in pictures that have already been drawn. There are three different widths of paintbrushes that you can choose from, a paint bucket option that allows you to simply fill in areas automatically, and an eraser for any "oops". You can also save the art your child creates by pushing the "camera" button, which will then be saved with all of your photos where it can be e-mailed, etc. Great for children who like to color and draw.
5) Erase – The Erase game is somewhat unique. The design of this game allows you to erase the top layer of a picture to see what is hiding beneath. There are little pairs of eyes to give you clues as to where animals may be hiding underneath. Children who like the peek-a-boo concept would enjoy this game.
6) Slide – The Slide game is also a type of puzzle game in which you slide the pieces around to solve the puzzle. By shifting the pieces in the frame, you find the picture that is hiding within the framework. Reminds me of "picture puzzle" on Mickey Mouse Clubhouse for those who have seen that show.
7) Catch – The Catch game reminds me of "Whack-A-Mole". The goal here is to catch five cows that are randomly popping their heads out of holes in the ground. Each time you catch a cow it "moos". Cute game and helps with hand-eye coordination.
8) Remember – The Remember game is like Simon for those of us that remember that game. Complete with the four iconic blue, green, red and yellow portions of the circle – your goal is to repeat the pattern that pops up. For example, "red, blue, red, green". The game starts out easy and progresses to more difficult. Great for memory skills.
9) Piano – The Piano game is perfect for those little ones that like to make music. You are given the choice of either cats, frogs, cows or fish. The piano has 8 keys and will play the respective sound for the animal you chose as you touch each key – meow, ribbit, moo, or fish bubble. Very cute and fun.
10) Collect – The Collect game is the last of the 10 games. In the Collect game, your goal is to guide your fish through the water tunnel and collect all five stars that are within. Starts out very easy and progresses to more difficult. Another game that would be good for hand-eye coordination.
I thought that Playground HD was a really fun app and had a lot to offer. I should mention that you are able to play this app in 15 different languages, which is very impressive. I know that my son and I will enjoy playing together in the future. He is starting to enjoy coloring and making music…so I know that this will become a favorite around my house.
Price when Reviewed: $3.99
Also, see the free lite version in iTunes: See the free lite version of app in iTunes
Requirements: Compatible with iPad. Requires iOS 4.0 or later. This app is designed for iPad.

Seller: Jan Essig
Disclosure: I received a free copy of this app for review purposes.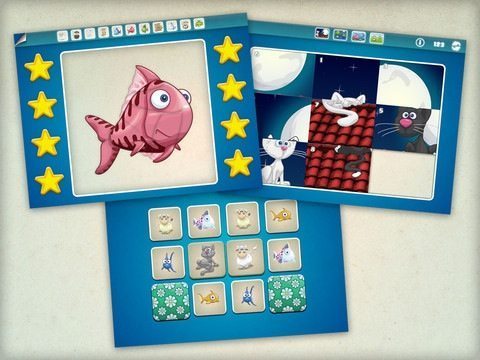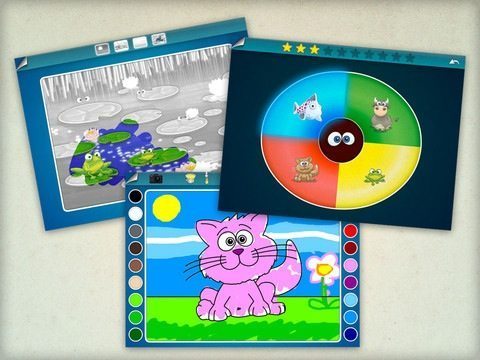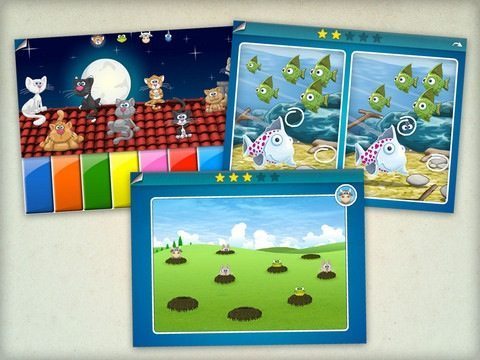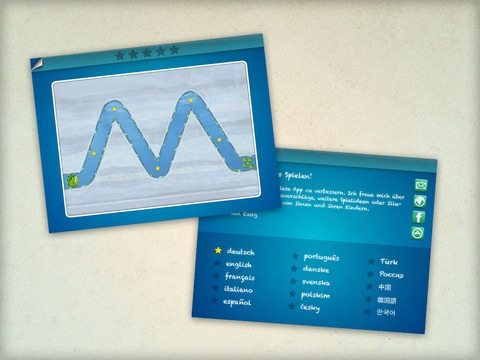 Related content: