Outdoor Fun App Review
App Info
Price: $2.99
Overview
A speech pathologist has designed an iPad app for use as a tool by instructors working with children. Outdoor Fun comes with three scenes and each scene can be used in two different ways. The first is to have children click on the items in the scene and then watch as a simple animation unfolds. The second allows children to arrange and add items to the scene. The app was designed for children to sit with their instructors and interact with them. If it's used in this way then app has flexibility to meet the needs of different children.
In addition to the interactive scenes for children Outdoor Fun has features just for speech pathologists. According to iTunes these include the ability to do the following:
to add their clients
to use the bank of existing goals or to add their own goals
to assign multiple goals to a client
to have multiple clients in a session
each goal can be scored and the accuracy will be available at the end of the session
speech pathologist can view the details of each session by the date of the session at any time
Per iTunes children will be able to do the following:
Follow 1-step or multiple directions
Answer wh-questions
Practice sentence structure
Learn new vocabulary related to the beach, park and mountains
Learn verbs as all the kids in the scenes are performing different actions
Practice present progressive vs past tense
Practice regular vs irregular past tense verbs
Practice personal pronoun of he/she as the kids in the scenes are boys and girls
Learn and practice prepositions e.g. next to , above, below, besides, between etc.
Tell a story
Use their imagination and take on the roles
Take turns etc.
My experience using Outdoor Fun was that the app is open ended and could definitely be used in a variety of ways. Users have the ability to record their voice for each scene and can play it back later. The app's user interface wasn't as intuitive as I thought it needed to be and I think that there should be a better help section. Perhaps a section on "suggested uses" could also be included. That way pathologists and children would both get the maximum benefit from using the app. I am not a speech pathologist and my children have never participated in speech therapy so I can't speak to how effective the app is as a therapy tool. A speech pathologist reading over the list of features above might find that the app has everything covered and the therapy benefits outweigh the clunkiness I experienced in the navigation.
Price when Reviewed: $2.99
See the app in iTunes

Requirements: Compatible with iPad.Requires iOS 4.0 or later.
Seller: Virtual Speech Center Inc.
Disclosure: I received a free copy of this app for review purposes.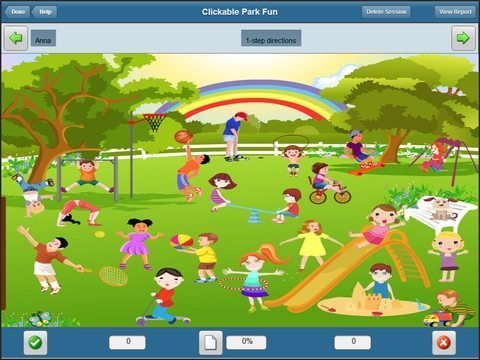 Related content: