My iPhone battery has died on me at the most inconvenient times – like when I was lost in a Minnesota blizzard and needed to Google an address, or that time when my flight was delayed and I needed to call my husband. If the iPhone's short battery life is one of your major pet peeves, you're not alone. I have tried everything to make my battery last longer. Here are my favorite solutions for extending iPhone battery life.
1. Get Mophie
The Mophie Juice Pack is my must-have accessory for keeping my iPhone juiced up on the go.  The multitasking iPhone case packs a built-in battery, which can add nearly 6 hours of additional talk and web time. Use the Mophie Juice Pack battery as your main battery and keep your iPhone battery on standby or vice versa – it's your choice. Either way you can practically double your iPhone batter's staying power with Mophie. (There is one downside — the case takes a little getting used to because it is bulky and will make your iPhone feel unwieldy.)
2. Turn Location Services Off
More and more apps like Facebook, Foursquare, and even the Weather app use GPS tracking to pinpoint where you are. While, I love using the location tagging feature, which lets me do neat things like share a restaurant I've visited on Facebook, it drains my battery pretty quickly. This is because the location services feature is turned on by default on your iPhone and it allows multiple apps to constantly try to track you down. Give your iPhone battery a break by turning off the location services setting. Go to Settings > Privacy > Location Services on your iPhone to change the setting.
3. Refresh App and Email Data Less Frequently
Do you really need your email inbox to automatically refresh every five seconds? Probably not. The iPhone gives you the option to fetch your email and app data every 15, 30, or 60 minutes, or you can choose the "manual" option which refreshes data when you load the app. I've set my iPhone to fetch new data manually, because doing an automatic refresh at set intervals can deplete the battery. Go to Settings > Mail, Contacts, Calendars > Fetch New Data to choose the optimal settings for you.
4. Lower Screen Brightness
This one's a no-brainer.  Whenever my battery icon indicates that my phone is dangerously close to dying, I simply go to Settings>Brightness & Wallpaper to dim my screen. It's an easy way to conserve battery.
5. Use Apps Wisely
Apps are huge battery suckers so it's important to use them wisely to make your iPhone battery last longer. If you need to run an app, remember to use a Wi-Fi connection (if there's one available) rather than 3G, as it is less of a strain on your battery. Also, remember to turn your apps off correctly when you're done using them, otherwise they will continue to run in the background and use up battery. Here's a great post on how to turn off appscorrectly on your iPhone.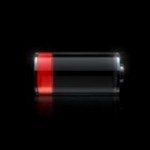 Related content: