Drawing for Kids (step by step) App Review
App Info
price: $0.99
Overview
Drawing for Kids (step by step) is a modern twist on a drawing instruction book. It will walk your children through the steps to draw twenty simple pictures. Users begin by choosing the picture they'd like to draw. The drawing screen is dividend in half, on top will be the example you need to follow, step by step. You'll begin with a simple shape. A button onscreen will turn on a shadow of the shape on the bottom of the screen. You can then trace over this shadow to create your drawing. Or you can draw leave the shadow off and draw freehand. The screen shows a grid of squares making it easy to count and draw. Red dots at the bottom of the screen show you how many steps it will take to complete the drawing. A next button moves you to the next step. There is an eraser button for mistakes but it takes away everything you've drawn. It would be nice if the eraser only got rid of the last step drawn so you didn't have to begin completely over. After you've completed your drawing it will be saved to a gallery.
Finished drawings in your gallery can be used as coloring pages. There is also a blank paper choice. In this section you'll find a variety of colors to choose from. You also have several different drawing tools, each has a different sized tip. They range from a pencil to a wide paint brush. Again, there is an eraser button that will clear what you have done. It works well but it erases everything, it would be nice if you could erase just a little bit at a time instead of all your work. Finished masterpieces can be saved to your photo library, emailed or sent to a printer.
Drawing for Kids has an intuitive interface and my son was able to pick up the app right away. He's been hard at work sketching rocket ships, fish and televisions. Today alone my inbox got treated to five of his drawings. The app certainly makes it easy for children to learn how to draw simple pictures.
This is an iPad only app.
Price when Reviewed:
Seller: Better World
Disclosure: I received a free copy of this app for review purposes.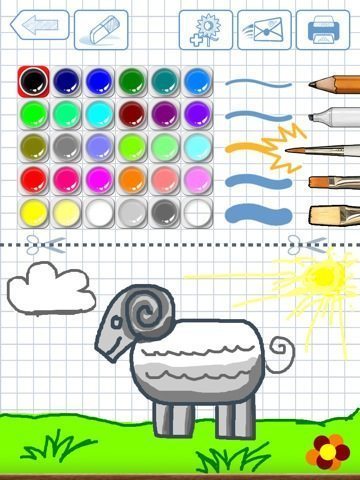 Related content:
Drawing for Kids (step by step)